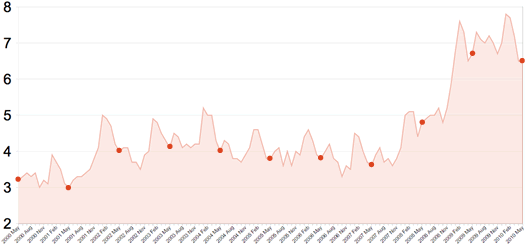 The Capital Region's unemployment rate was 6.5 percent in May, according to the state Department of Labor. It was 6.5 percent in April and 6.7 percent in May 2009. (May to May is the best comparison because the local unemployment rate is not seasonally adjusted.)
The labor department reports the number of non-farm jobs in the Capital Region last month was down 2,500 compared to May 2009. There are still almost 30,000 people unemployed in the Capital Region.
New York State's overall unemployment rate in May was 8.3 -- the lowest rate since April 2009. The state's rate was 8.4 this past April and 8.4 in May 2009 (seasonally adjusted). But the labor department says the number of non-farm jobs in the state last month was down 22,700 compared to May 2009.
So, what's up here? There are fewer jobs compared to this time year -- but the unemployment rate is down (slightly)?
The decline might have something to do with how the unemployment rate is calculated. People who are self-employed are not counted in the survey. As former US labor secretary Robert Reich recently noted in NYT, there's been a surge of "entrepreneurship" reported -- but he calls many of these people "involuntary" entrepreneurs. That is, they can't find a job, so they've set out on their own in an attempt to scrape something together. They're not technically unemployed -- but, even if they've found some work, many are worse off than before the recession.
Also not counted in the survey: people who have simply given up on trying to find a job.
It's easy to see how people could get demoralized. This recession is tough (thank you, Captain Obvious). And many of the jobs lost may not be coming back.
That unemployment rate for the entire United States was 9.7 percent in May.
Breakouts for individual Capital Region counties:
Hi there. Comments have been closed for this item. Still have something to say? Contact us.