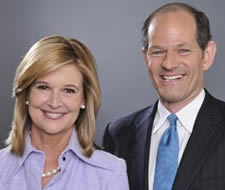 At least he didn't end up on a reality show.
CNN announced today that Eliot Spitzer (you remember him from such episodes as "The governor who spitzered himself") will be co-hosting a nightly "roundtable discussion" program at 8 pm (he had been guest anchoring on MSNBC). The other host will be columnist Kathleen Parker, a conservative columnist and 2010 Putizer Prize winner.
Jon Klein, the head of CNN, is promising a show that's "a lively roundup of all the best ideas -- presented by two of the most intelligent and outspoken figures in the country." Presumably Spitzer and Parker will try to not hurt America, as Jon Stewart famously accused Crossfire, CNN's former left-right wrestling show, of doing (and then Klein cancelled the show).
Among our list of hoped-for guests: Ashley Dupre, David Paterson, Joe Bruno.
CNN says the new show doesn't have a name, yet. All Night Long with Eliot and Kathleen? There would seem to be many possibilities.
Update: Spitzer tells NYT he's "extremely thankful" for the opportunity.
photo: CNN
Hi there. Comments have been closed for this item. Still have something to say? Contact us.