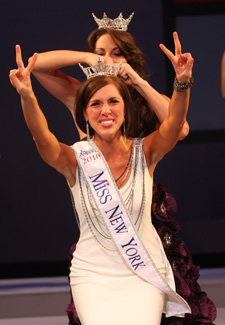 The platform for Claire Buffie, who was crowned Miss New York this past weekend at UAlbany, caught our eye. From the pageant's site:
... [she is] an outspoken advocate of human rights, opening the dialogue about equality amoungst youth, teens and adults alike with her platform "Straight for Equality: Let's Talk." The issues of gay rights make up the civil rights movement of our generation and reach far beyond marriage equality. As Miss New York 2010, Claire aims to break the stigma of marginalized youth, eliminating discriminatory vocabulary and changing the climate in New York schools. She celebrates diversity and the things that make us all unique and aims to instill pride, dignity and respect in developing minds and compassionate hearts.
If you remember (or if you've blocked it out), same-sex marriage was the issue that set off the furor around Carrie Prejean, Miss California at last year's Miss USA pageant (Prejean said during the pageant that she thinks marriage "should be between a man and a woman").
Back to Miss New York: According to her bio, she's an executive board member of the NYC chapter of Parents, Family and Friends of Lesbians and Gays. She was one of the runners up in last year's pageant.
Buffie lives in NYC where she has a photography and design business. According to her bio, she also works at the "genius bar" at the Apple on Fifth Ave in Manhattan. She loves Glee. And here she is wearing a fake duck bill on an Aquaducks tour.
She now gets to compete in the Miss America pageant.
photo: Miss New York Organization
Hi there. Comments have been closed for this item. Still have something to say? Contact us.