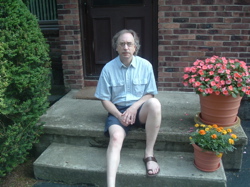 Every Monday night our friends at WEXT do this thing called My Exit -- local listeners get to come into the station and program an hour of music. So we thought it'd be fun to find out a little bit about these people and why they picked the songs on their play list.
Here's tonight's person:
Who?
Mark DiMartino from East Glenville
How would you describe your musical taste?
It's hard to find music I don't like. Basically the British invasion did it for me followed by guitar driven rock and blues in the late 60's and beyond. Folk music especially at venues like Cafe Lena and the Old Songs Festival is a major part of my listening. I also hope to get to SPAC to hear the Philadelphia Orchestra.
A few songs from Mark's My Exit show:
 
The Avett Brothers-Distraction #74
Great mix of bluegrass, folk and humor.  My favorite current group since my son introduced them to me over 2 years ago.
 
The Freddy Jones Band - Texas Skies
Mature southern rock from my favorite group of the 90's.  Soaring guitars in harmony and a song of homecoming.
 
Jethro Tull - Jumpstart
Powerful interplay between Ian Anderson's flute and Martin Barre's guitar in a driving song of various rhythms.
 
Richard Thompson - Cooksferry Queen
Brilliant songwriter and guitarist who's been around since 1968 and shows no signs of slowing. He can sing about the underbelly of society as in this song and make it sound joyous.
 
You can hear Mark's My Exit show tonight at 8 on 97.7 or at exit977.org.