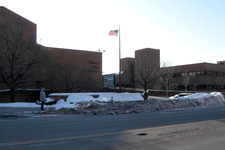 A report from the state education department circulating this afternoon doesn't paint a positive picture of Albany High School. Both the Times Union and CBS6 have posted copies -- apparently the report will be released at this evening's school board meeting.
Among the observations in the report:
+ "... Albany High School has an unacknowledged school within a school where a small number of high performing students attend small advanced placement and international baccalaureate classes" (Perhaps "unacknowledged" officially, but this has been pretty well acknowledged by seemingly everyone else.)
+ "Low expectations of students are evident in most observed classrooms."
+ "The needs of most students with disabilities are not being met."
+ "Albany High School is a collection of unrelated, uncoordinated, and unsupervised programs that are not assessed for effects on student achievement."
+ "School attendance is a chronic problem. Absentee rates of 50% or higher are common."
+ "The atmosphere of Albany High School is institutional and impersonal."
The state education department declared AHS a "persistently lowest achieving" school earlier this year, and said the school needs to restructure. This report is part of the review prompted by that designation.
Albany High School's graduation rate was 53 percent in 2009, according to NYSED. That was the lowest in the Capital Region.
This new report does note that interim district superintendent Raymond Coluccio is "an experienced and accomplished administrator and has made the improvement of student achievement the district's top priority." And the TU's Scott Waldman reported earlier this year that new Albany High principal David McCalla appears to be changing the culture of the school.
Hi there. Comments have been closed for this item. Still have something to say? Contact us.