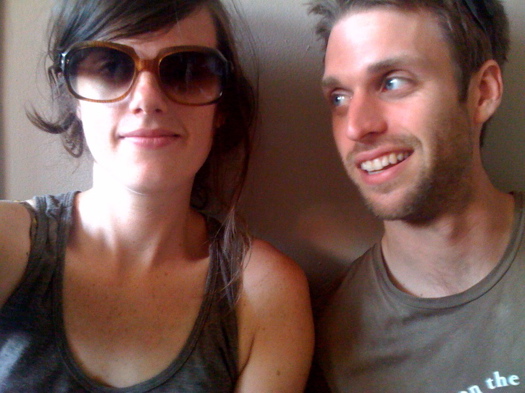 We first met Hounds on Hudson owners Jen & Mike last year, as part of an AOA audio slide show.

You pick up a lot while walking a dog. And Jen and Mike are out and about, walking dogs in the Capital Region year round, so they've learned a lot about what there is to do and see in the area.
We thought we'd check in with them about their favorite things to do in the summer, both with and without the dogs.
About Jen and Mike:
We live on Grand Street in the Mansion neighborhood of Albany, but are currently living up by Washington Park while we renovate our townhouse (inspired by the works of Miyazaki, tree houses and mid-century modern design).
We have two kids--Thatcher, 10 months and Aurora, 6 yrs and own and manage a dog walking company, Hounds on the Hudson. Our work keeps us busy for many of our waking hours, but when we aren't walking dogs or raising kids, we can be found caring for our goats and chickens, riding bikes, reading (sci-fi paperbacks, blogs such as ouryellowhouse.typepad.com, nerdcore.de, fridaypuppy.com, AOA and on and on and on) cooking, brewing, or hanging out with awesome friends.
Mike is from Long Island and has lived in Albany for 10 years. Jen is from Philly & DC and has lived in Albany for 3 years.
What are your favorite things to do in the Capital Region during the summer?
Nothing beats night time bike rides--few things in this world pair as nicely as the click of a free-wheel and a cool summer night's breeze. We also love finding nearby swimming holes or hitting up Lincoln Park pool and the sprinkler parks, riding the 1st Friday trolley around, watching Playhouse Theater in the park or going to the drive-in with the kids, cursing the ice cream truck, maybe catching a show at EMPAC lounging inside by the AC and listening to Joanna Newsom's new album on repeat. We also big fans of day trips--Grafton Lakes and the Peace Pagoda, picnicking at Storm King Art Center Mass MOCA, etc.
What are good local summer activities for people to do with their dogs?
Washington Park is a tried and true stand-by, with the lake, fountain, and abundant shade. Normanskill can be a great place to walk along a river with your favorite a pooch ditto for Corning Preserve. We like to get a little out too--We have been having good weekend trips down to New Paltz area to explore swimming holes and some trails, both friendly to dogs. Really though dogs are great they don't need a lot just a place to stroll and a good shade tree. A tip of our lemonade to all the other dog-walkers out there sweating on the hot street with their four legged friends. Thanks AOA for the great series.

Do you have a favorite summer food, drink or dessert (guess that counts as a food, though) from the Capital Region that you really want to make sure you get before the season is out?
Peanut Butter and Jelly ice cream from Tollhouse is a total classic, which is a great stop on the way back from Thacher park. Gelato at Crisan's is a daily constitutional too on these hot days walking dogs. Jen basically lives on tomato, mozzarella and basil on a sourdough baguette with local veggies from friends' gardens all summer long, and dreams about that sandwich often in the middle of January. We've also been enjoying the flavor of Porkslaps beer around the grill, where we throw on whatever local meat or veggies are available.
Do you have a favorite Capital Region summer memory?
Mike: I remember a group a 8 year olds who pushed the lifeguards off the platform in the middle of Lincoln Park pool and occupied the platform for at least an hour--it was amazing.
Jen: Last summer I gave birth at home to our son, Thatcher. He was born in the water and I caught him myself. It was an incredible experience and certainly made that summer very memorable!
If friends come and visit during the summer, where do you take them?
Depends on the guest, but if it's a nice day the Indian Ladder trail at Thacher park is a great, short hike. Appetizers at New World Bistro and movie at the Spectrum is usually a fool proof good time too. Sometimes just meandering around the Plaza amongst all the brutalism architecture and impressing them with facts about all the imported marble.
What do you like the most about Capital Region summers?
We love the pace of summer picks around Albany, music, free events and just more people around. We are out walking dogs all winter and even an area like Center Square can seem desolate and lonely during the January. Its nice to see everyone out during the day in the summertime. Lots of dogs and faces doing the summertime thing. That's our favorite change just the increase of people walking around.
What do you wish we had here in the summertime?

Dog-friendly water-park? Please.


Hi there. Comments have been closed for this item. Still have something to say? Contact us.