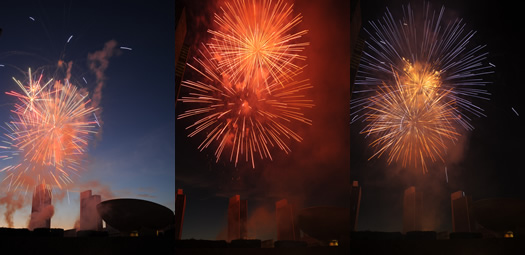 We're a little (OK, a lot) late on this because of the summer break, but we're always happy to gawk at fireworks photos. Chuck has a huge photoset from the ESP display. He's also posted an account of the evening (it included Polish horseshoes).
A few other sets to check out:
+ Helena Bowman's nice photoset makes the ESP fireworks look almost plant-like -- sort of like luminous dandelions that have gone to seed.
+ We love the light in this shot by Katie Anello.
+ We like the framing in this shot by liz_ahearn
+ This set by tcsuliv is a bunch of really wide shots. We like this shot, specifically.
+ F1addictob's set includes the Price Chopper "sign" on the Corning Tower.
+ This "hipstamatic" shot by theDreamerWorld looks totally old-school.
+ There's something kind of cool about how the person is silhouetted in this photo by s.m. bush.
+ And Caitee Smith went bokeh on the display.
(Thanks, Chuck! Thanks, Sebastien!)
photos: Chuck Miller
Hi there. Comments have been closed for this item. Still have something to say? Contact us.