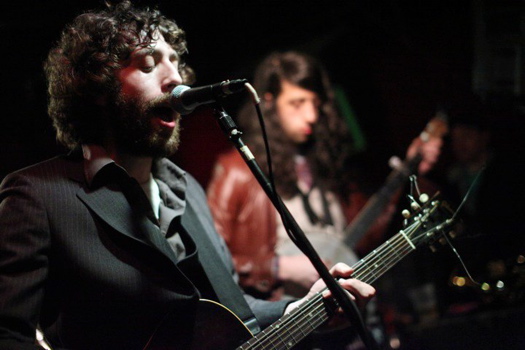 Every Monday night our friends at WEXT do this thing called My Exit -- local listeners get to come into the station and program an hour of music. So we thought it'd be fun to find out a little bit about these people and why they picked the songs on their play list.
Here's tonight's person:
Who:
My name is Alexander Severino Muro, although I usually just go by Alex. I grew up mostly in Woodstock, NY but I've lived in the Pine Hills neighborhood of Albany for the last five years. I write songs for Sgt Dunbar & the Hobo Banned and The Neighborhood of Make Believe (a new project), I play tuba in We are Jeneric, various instruments in the Hoborchestra and the maracas in Beware! the Other Head of Science. I am one of the founding members / official meeting chef of the B3nson Recording Company and I am very involved in every aspect of the collective. My "day job" is as a research assistant at the University of Albany doing mystical analysis and visualization of traffic data.
How would you describe your musical taste?
I like honest music. I don't like love songs.
A few songs from Alex's show:
Sharon VanEtten - For You
Sharon played at the Amrose and Sable Gallery (now the Dovecote), at some point during 2009 with Swamp Baby, it was the best live show I saw all year. Her album, Because I Was in Love, is currently one of my constant jams and has been for more than half a year. (My more recently released constant jams are Local Natives - Gorilla Manor & the Morning Benders - Big Echo)

Dust From 1000 Years - Mike's Truck
Dust from 1000 years are touring friends of ours who we met through the Mathematicians. They also happen to be one of the best bands you've never heard of. They just released a new album called Marble Memo which is great but Buzzard, the album which this song is from, is one of my favorite records of all time.
The Microphones - I Felt Your Shape
The Microphone's The Glow part II at this point has been imprinted on my brain and holds a place in my personal lexicon outstripped only by In the Aeroplane Over the Sea. "I Felt Your Shape" manages to be beautifully exacting and powerfully vague in the same two minutes, achieving a state of complimentarity that I am always searching for.
Scientific Maps - People Love Their Troubles
I played a bunch of local music on My Exit, and all of it is great although this might be the best local song of 2009. The music scene in the Cpital District these days is producing amazing music and really fun bands. Phantogram was the first local band from this era to find a bigger audience but I don't think they will be the last, I urge you to pay attention now. You can see some amazing bands for super cheap.
You can hear Alex's My Exit show tonight at 8 on 97.7 or at exit977.org.
Hi there. Comments have been closed for this item. Still have something to say? Contact us.