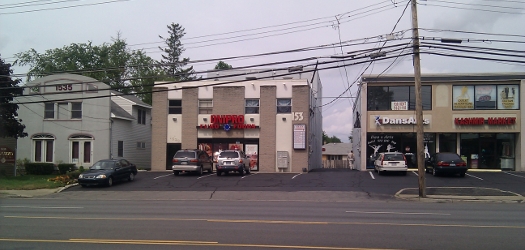 After Lou saw that Dnipro -- the great little Eastern European market -- had moved from Cohoes to Colonie, he decided to swing by and check it out.
And he was nice enough to send along a report from the new store. (There's bacon involved.)
From Lou's report on the new location at 1533 Central:
[It's] the same clean place and excellent products at the same favorable prices, just a bit bigger and probably better situated for their core clientèle. Understand that Dnipro exists because there are enough Russian-Ukrainian-Eastern European immigrants to support them, and enough suppliers in NYC, Buffalo and Chicago to stock them. Many product labels have no English. Ask.
I like Dnipro for two reasons, which might be one: immigrants raised me (French immigrants, specifically Breton) and, though somewhat timid and hardly snobs, they raised me not to settle for crap. Everything in Dnipro, whether you can identify it or not, is a little better -- and the prices are good.
A lot of nice people are very proud of this place. That's enough for me.
Like what? The Moscow-style ham at $6/lb. Nice, meaty, studded with garlic cloves, fat on. The double-smoked bacon (also $6), cuz I don't get to Warrensburg so much. The Narochansky dark rye bread. The pelmeni (get the hand-made Siberian-style, and dress with butter, black pepper, and maybe Sriracha; Ivor will point you toward a jarred plum sauce they have, but I haven't gone there yet). I'm not much for sweets, but even mainstream candies from eastern and central Europe are plain good, and I always get some of the Marcepan (dude!) and Toffino, keep 'em in the fridge by the Steininger's chocolates. Somebody'll get to them.
With a little probing, the Albany-area omnivore can easily find two products (and prices) to love at Dnipro, with the prospect of more. My next targets are the smoked fish, a proper dive into the salami pool, and cookies.
And in case you're thinking this is an old-timers place, the owner-couple is about thirty-years old. They just had a baby girl, whose Russian grandmother is usually doting on her in the store. When I parked in the front, a smiling older woman got out of her car to tell me in Russian that the door is in back -- and I somehow understood. A lot of nice people are very proud of this place. That's enough for me.
Couple of things to know about the relocated Dnipro Market
+ 1533 Central in Albany is the new address. That's immediately west of the Northway ramp onto Central.
+ Coming from the east, either up Central or from the Northway, it's on your right (north side of the street) immediately after the westbound Northway ramp. Start looking right away.
+ Entrance is in the rear. See that alley between the building on the right? Go in there, park in the back.
+ Real entrance looks like this: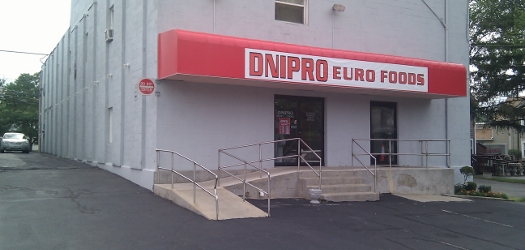 + You can't exit via the same one-way alley. Rather, you exit out back onto a residential street and loop back to Central -- where, thankfully, there's a traffic light.
Lou's account has been lightly edited.
Earlier on AOA:
+ Jess checked out Dnipro in Cohoes last year
+ The Capital Region Ethnic Market Map
photos: Lou Quillio
Find It
Dnipro Eastern European grocery
1533 Central Ave
Colonie, NY 12205
Mon-Thurs: 11 am - 7 pm
Friday: 11 am - 7 pm
Saturday: 10 am - 6 pm
Sunday: closed
(518) 218-9271
deli@eurodnipro.com
Hi there. Comments have been closed for this item. Still have something to say? Contact us.