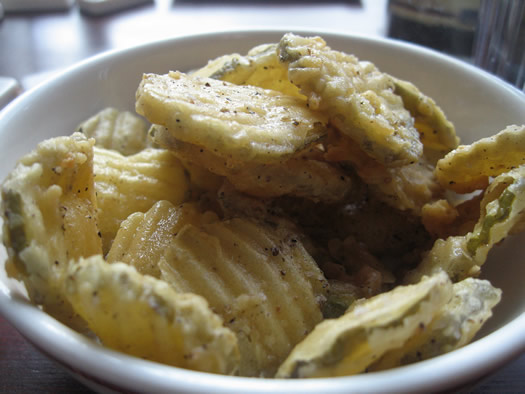 Stephanie asks via the Twitter:
Is there a place in Albany that has deep fried pickles on the menu? Some bbq places in NYC do. I love them.
If you had to take a guess, we'd look to Capital Q. They've been known to experiment with the fryalator arts. Or maybe one of the local fairs (fried pickles + food on a stick = fun).
We hope someone has an answer. Our week will probably not be complete without some fried pickles.
Bonus fact: Though there's some dispute over the origins, the fried pickle is said to have been first conjured during a moment of inspiration in 1960 at the Duchess Drive In in Atkins, Arkansas -- a joint that sat across the street from a pickle factory. [Serious Eats]
photo: Flickr user Ron Diggity
Hi there. Comments have been closed for this item. Still have something to say? Contact us.