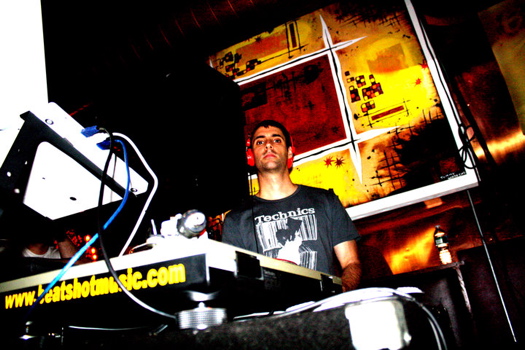 Every Monday night our friends at WEXT do this thing called My Exit -- local listeners get to come into the station and program an hour of music. So we thought it'd be fun to find out a little bit about these people and why they picked the songs on their play list.
Here's tonight's person:
Who:
DJ Nate Da Great, from Albany.
I've been DJing for a little over two decades. I started scratching records and making Hip Hop mix-tapes back at Albany High School in the late 80s and early 90s. Over the years, I've hosted mix shows on the radio, competed in scratch battles, played at clubs, performed with bands and backed-up hip hop acts. I've even done a couple weddings.
How would you describe your musical taste?
Hip hop has primarily shaped my taste in music. So, I find myself mostly drawn to music that has influenced hip hop and to music that has been influenced by hip hop. I think that many people will be surprised to learn that this covers a vast range of musical styles -- from jazz to reggae to R&B, funk and disco. I took this opportunity on WEXT to spotlight hip hop music and its influences.
3 Songs from Nathan's My Exit show:
It's Just Begun -- The Jimmy Castor Bunch
This is just a classic B-Boy track. It's a favorite among break-dancers and pretty much defines the B-Boy sound of the late 70's and early 80's. It's integral to the hip hop culture and a must-know track for hip hop enthusiasts.
Eric B. is President by Eric B. and Rakim
One of my all-time favorite songs. It was released in the mid 80s at a time when hip hop music was quickly moving into its "Golden Age". Rakim was one of the first MC's credited with raising the bar for hip hop MCs and lyricism. Rakim's lyrics and flow (rhythmic structure of delivery) were out of this world and opened the door for future creativity among MCs.
Nautilus by Bob James
This is jazz fusion at its best. Bob James made a few tracks that have been sampled over and over again and have heavily influenced hip hop music. I'll play Nautilus followed by one of the songs that sampled it, Ghostface Killah - Daytona 500. Sampling has gotten a bad rap over the years. It's been labeled as "uncreative", "stealing", "not real music." However, there is a history behind it and a reason why it played such a big role in the development of hip hop music. One of the things that I'll try to do on WEXT is provide an understanding of sampling: its purpose, its history and evolution.
You can hear Nate's My Exit show tonight at 8 on 97.7 or at exit977.org.
Here's how to schedule your own My Exit show on WEXT.
photo by Robin Kettner

Hi there. Comments have been closed for this item. Still have something to say? Contact us.