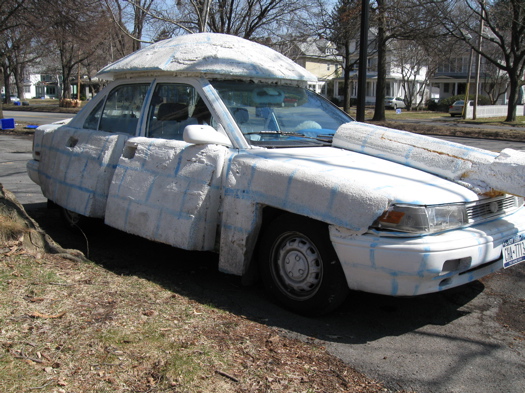 You may have seen the "Vehigloo" driving around town -- it's an art car designed to look like a rolling igloo.
And now the Vehigloo could be yours. The owners have posted it on Craigslist. For free. From their posting:
You will get more attention driving around in this super fun car than if you were driving a Ferrari. Honks, waves, screaming, mooning -- you name it. It is not for the super shy unless you are trying to come out of your shell. We counted that we were photographed 50 times during our 6 hour trip to Baltimore. That is once every 7 minutes! There is a PA system so you can make animal and siren noises. The inside is also decorated/painted including hanging icicles. This car has been in a bunch of parades. ...
We are looking to give this to someone who will either enjoy it as it is or change it into their own style of artcar. You are not going to get this car to look like a regular car again, so don't even think about it! :) PLEASE email me with your plans for the car.
As it happens, the Vehigloo is/was a 1991 Toyota Corolla -- and the owners say it needs some work.
Said Andreas, one of the creators, in a comment here on AOA last year: "I did it just for the fun of it. It is a unique experience to drive in something like this. Sometimes you feel like a rock star, and sometimes like a freak!"
(Thanks, StickFigureMan!)
Hi there. Comments have been closed for this item. Still have something to say? Contact us.