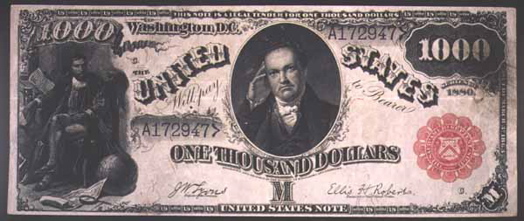 By Carl Johnson
Some politicians get streets or courthouses named after them. Some get a statue in the park. A very few exceptional public figures are memorialized on our coins and currency -- and Albany can lay claim to four famous figures whose portraits have appeared on our money.

After the jump, a few of the Albany pols. who were (or are) on the money:
DeWitt Clinton
This visionary politician helped the Empire State become what it is through the construction of the Erie Canal. DeWitt Clinton wasn't a native of Albany (he was born in Little Britain, Ulster County), but spent much of his professional life here. In the course of his life (1769-1828), he held just about every political office imaginable: member of the Assembly, State Senator, United States Senator, Mayor of New York City, Lieutenant Governor, and Governor of New York. He also ran for President of the United States (against James Madison), organized the Historical Society of New York, headed the American Academy of the Fine Arts, was a Regent of the University of New York, and, of course, headed the Erie Canal Commission. His politically motivated ouster from the Erie Canal Commission caused such a backlash that a People's Party formed and elected him Governor again, and he served until his death. On the centenary of his birth, his portrait appeared on the U.S. $1000 note -- though he had to share space with Christopher Columbus.

William Henry Seward
Best remembered for the "Seward's Folly" that gave us Alaska, William Henry Seward was the founder of the Albany Evening Journal, a New York State Senator, Governor, United States Senator, and U.S. Secretary of State. He survived an assassination attempt at his home by a Booth accomplice the night Lincoln was shot, and ultimately was honored with his portrait appearing on a $50 treasury note.

William Learned Marcy
William Learned Marcy served as a United States Senator, Governor of New York, U.S. Secretary of War, Secretary of State, and is buried in Albany Rural Cemetery. He appeared on a $1000 silver certificate issued from 1878 to 1891.

Daniel Manning
Daniel Manning's Albany ties are solid -- he was born here in 1831. He was a newspaperman (or boy, starting work with the Albany Atlas at age 11), becoming editor and then owner of the Albany Argus, whose building still stands on Broadway. This led him to a political career, serving as Chairman of the state Democratic Committee. His political connections led to his appointment as Secretary of the Treasury by President Grover Cleveland in 1885. An engraved portrait of Manning appears on $20 silver certificates known as "diamondbacks" because of their design, from around 1886 to 1891. Like Marcy, Manning is buried in Albany Rural Cemetery.

Other notable figures on coin and currency who had Albany area connections:
+Ben Franklin (author of the Albany Plan of Union, 1754), is on the current $100 bill
+Ulysses S. Grant, who finished his memoirs in the town of Wilton,now graces the $50. +Alexander Hamilton, who married into the Schuyler family and served one term in the New York State Assembly, now graces the $10 bill, but as the first Secretary of the Treasury, has been pictured on various other bills throughout the years.

Hi there. Comments have been closed for this item. Still have something to say? Contact us.