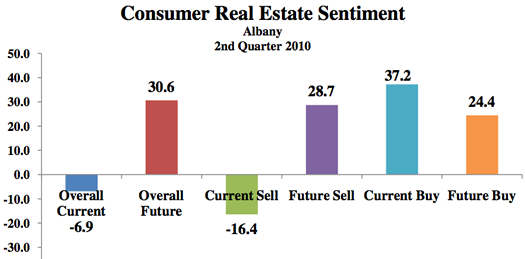 People in the Capital Region are optimistic about the housing market here, according to a Siena Research Institute report out this week. In fact, people are more optimistic about the housing market here over the next year than in any other part of the state.
Also, SRI reports that sentiment here is strongly leaning toward this being a buyer's market right now. That's not really surprising. The median sales price for single family homes in the Capital Region is now about the same as it was five years ago, according to the Greater Capital Region Association of Realtors. And while the "months supply of inventory" has been down recently, it's still relatively high compared to the last five years.
The strong optimism for the future is a little harder to figure. Is it a result of GlobalFoundries? Or maybe a byproduct of the fact the housing market here never really went in the tank like it did other places?
A quick explanation of the graph above: SRI surveyed more than 2,000 people to derive the "consumer real estate sentiment scores." Positive numbers indicate optimism, negative numbers pessimism. Zero is the point at which there's an equal amount of optimism and pessimism. SRI says anything beyond 50 (+ or -) is considered "both rare and extreme." (There's more detailed explanation at that first link.)
Earlier on AOA:
+ The slow climb toward economic recovery
+ Capital Region June unemployment rate better than last year
graph: Siena Research Institute