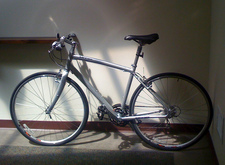 Jason emails:
There appears to have been a string of bicycle thefts over the weekend in the Whitehall/Delaware neighborhood in Albany. My bicycle was stolen out of my open garage while I was home on Sunday in broad daylight (between 6:30-7:30PM). The officer who came and took the incident report said he had just come from another home where two bicycles were stolen out of an open garage. I went on Craigslist this morning to look to see if my bike was on there and found that five bikes were stolen on Delaware Ave on Sunday around 12:30PM off of a porch (a few blocks away - I live on Whitehall).
It's a serious drag to think that you might have to lock up your bike in your own garage.
The Albany police department has a bike registration program aimed at making it easier to recover stolen bikes. If you call 438-4000, you'll be directed to a number for more info (it varies by your location). There's also a "National Bike Registry" that says it includes the Troy, Colonie and Rensselaer police departments, as well as UAlbany and RPI security. We don't know much about this service -- and it costs $10 -- so caveat bike rider.
Another option: ride a tall, pink bike.
(That's Jason's bike in the photo -- click for a better view.)
Hi there. Comments have been closed for this item. Still have something to say? Contact us.