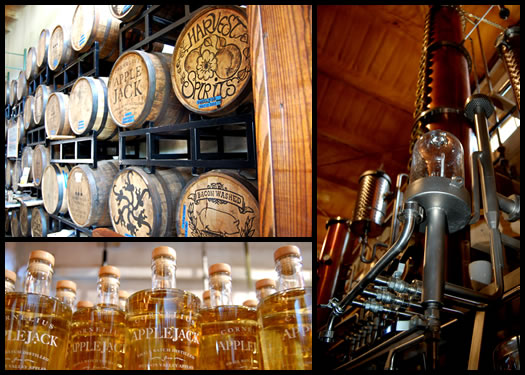 By Nicole Karas
My friend Stephen, a cook for the Miss Albany Diner, and I originally went to Golden Harvest Farms in Valatie to see what fruits they were selling at the farm store, but we noticed this sign peeking out: Harvest Spirits.
And that's how we met Derek Grout. He makes wonderful things. From leftovers.
Harvest Spirits is a micro distillery on the grounds of Golden Harvest (owned by Derek's family) -- and it makes many of its products from leftover fruit. Its batches are tiny; nothing larger than a 100 gallons at a time. Its website describes the distillery as "a very modern work of art." And it is very cool.
While poking around a little we came across Derek working, and he warmly invited us in. Right away, I knew that he was a man who loves what he does. He took us around the distillery and talked to us about the process of distilling -- boiling it down to the simple idea of a "separation of liquids." (Get it? BOILING it down? The process is more thoroughly explained on Harvest Spirits' website.) Derek's explanation got a lot more detailed, but I was so busy looking at the still he uses I couldn't hear anything he was saying. The thing is simply beautiful.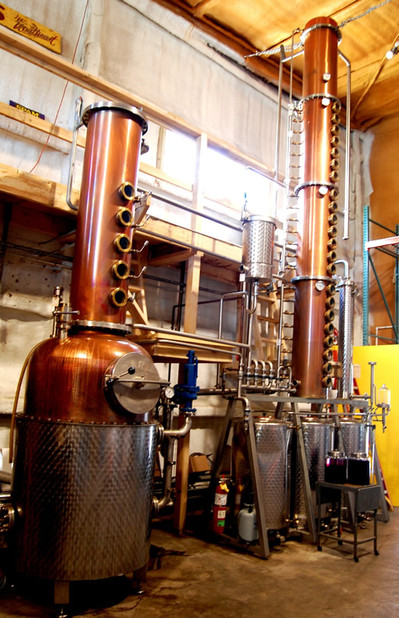 Derek purchased the still in 2006 but couldn't use it until 2008 when it was fully certified (it's a state law). He couldn't even practice with it! Imagine having such an incredible thing in your possession and not even being able to use it? Luckily, it is amazing to look at: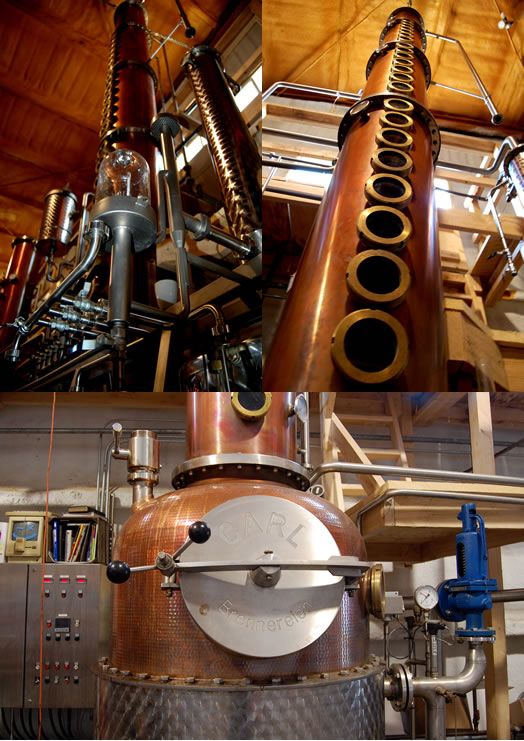 Harvest Spirits makes three main products from fruit grown at Golden Harvest and other local farms. Currently in production are Core Vodka, Cornelius Applejack, and a brandy in pear and apple flavors.
Derek's not stopping there, though. He's working on a grappa and has some Rare Pear (brandy with flavors of spiced pear and honeysuckle) aging in new oak barrels. But he seems most excited about his Himbeer Geist, a spirit made from the black raspberries that grow outside the distillery.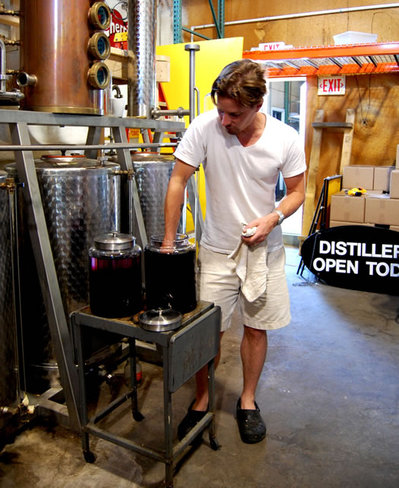 Derek, macerating some black raspberries in alcohol before the liquid gets strained and distilled again.

Derek is relatively new to the distilling profession -- his first career was in design and advertising (which is clear when you see the bottle labels). And he appears to have an unquenchable desire to learn and experiment in his current field. In addition to the grappa, pear and Geist projects (which will be ready in the next 6 to 12 months), he said he's interested in working with black currants. Want something else to look forward to in the current year? All I can officially say is think bacon.
Even as Derek revels in the art of distilling, he admits Harvest Spirits was started with a modest intent. "The goal is to take the surplus fruit and make it into spirits. The reason this exists is to use surplus apples," he says. "It does help that I have an apple farm."
A few more photos: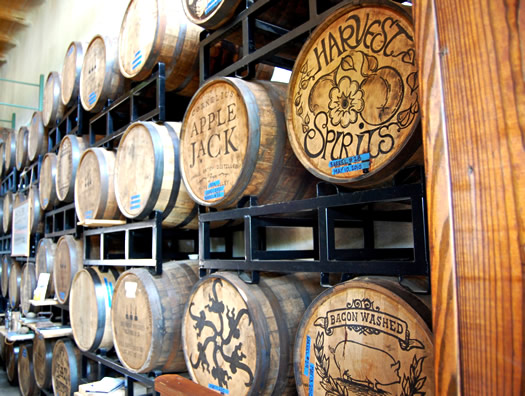 Derek got tired of staring at the plain wood, so he started to decorate them, because why shouldn't the place be an art installation as well as a distillery? He says he'd be happy to invite a local artist in to decorate one! Someone with a pen and ink or cartooning background would work best because he uses just a template and a marker for the designs. If this sounds interesting, you can contact him through his website for more information.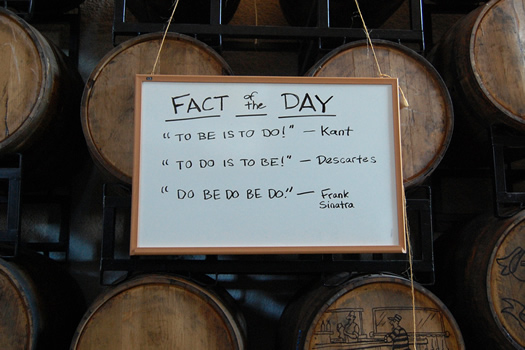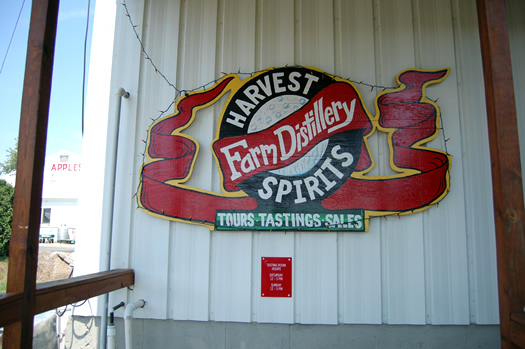 The distillery is open for tours and tastings every weekend from 12 - 5. It's a short drive from Albany.
When you get there you can meet Derek yourself and ask him anything about the process -- he's happy to oblige. And after all that knowledge, you can reward yourself with a tasting (and possibly a cider donut from the farm store)! All the spirits he makes are available for purchase right at the distillery (they're also available in retail stores and restaurants).
But wait! Our adventure didn't end there! Stephen and I brought home some spirits and cooked with them!
Earlier on AOA: CORE Vodka
Find It
Harvest Spirits
3074 U.S. 9
Valatie, NY 12184
On the grounds of Golden Harvest Farms.
Hi there. Comments have been closed for this item. Still have something to say? Contact us.