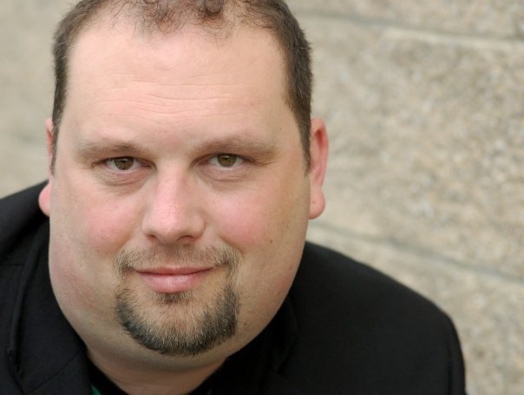 Every Monday night our friends at WEXT do this thing called My Exit -- local listeners get to come into the station and program an hour of music. So we thought it'd be fun to find out a little bit about these people and why they picked the songs on their play list.
Here's tonight's person:

Who?
I'm Aaron S. Holbritter from Cohoes. I'm Administrative Coordinator for the Capital District Gay and Lesbian Community Council. I'm also a local actor and director most recently seen in Home Made Theater's Deathtrap. I'll be directing Proof at Albany Civic Theater this winter.
How would you describe your musical taste?
I have a remarkably wide ranging taste in music, though I hardly consider myself an audiophile. I'm not one of those people who can name every track on a bootleg Zeppelin LP, but I know what affects me. I would say my most prominently unusual music taste is for movie scores.
A few songs from Aaron's My Exit show:

Everybody Knows - Concrete Blonde
This is one of the most pervasive songs of my late teens and early twenties, this song is still a never skip on my mp3 player.

The Origin of Love - Hedwig and the Angry Inch
Musicals don't produce hit songs anymore, and I'm not sure why, but I'm sure it has something to do with the shortsightedness of the mainstream music industry. Here's a song originally from a musical, then later the movie, that I think given a fair shake, could have been a bigger hit.

Thrash Unreal - Against Me!
This song has a very distinct dichotomy between its upbeat, catchy sound and the lyrical subject: A forty something female heroine addict who lives her life of drugs, minimum wage jobs, night clubs and indiscriminate carnal encounters without regret or apology. What's not to love?

Show Me What I'm Looking For - Carolina Liar
Any song is good if it evokes great memories. Heard this one in a Target commercial, and it became last year's "song of the summer" for me and my friends. It never fails to put a smile on my face.
You can hear Aaron's My Exit show tonight at 8 on 97.7 or at exit977.org.
Hi there. Comments have been closed for this item. Still have something to say? Contact us.