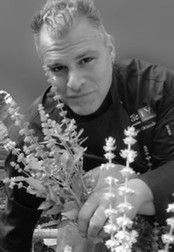 Local chef Ric Orlando (New World Home Cooking in Saugerties, New World Bistro Bar in Albany) was on the Food Network show Chopped Tuesday night.
We've watched this show a bunch of times and it looks like it can be brutal -- odd mystery ingredients, serious time pressure and picky judges. A lot of professional chefs have melted in the heat of competition.
So, how'd Ric do?
Competitors
older private chef from NYC
executive chef in Manhattan
young sous chef in NYC
Ric Orlando
Judges
Mark Murphy
Geoffrey Zakarian
Alex Guarnaschelli
Appetizer round
Surprise ingredients: rainbow trout, napa cabbage, smoked paprika, white chocolate chips
+ Ric gets out the wok for the cabbage (apparently a rarity on Chopped), looks relaxed, competitors gripping hard
+ He goes late to the pantry for rosemary and thyme to create "3 or 4 part harmony"
+ With his big, complicated flavors he asks in voice over: "Am I a freak or I am cooler?"
+ He cruises to the finish.
+ Sous chef guy next to him calls Ric's dish the "hungry man portion."
Ric's dish: "Misty Mountain Trout" -- pan seared trout, sweet and sour cabbage, chipotle chocolate sauce
+ Geoffrey says there's a lot going on.
+ Alex says the rosemary and thyme "gild the lilly"
+ In the judging session, Geoffrey says he felt Ric's passion. Alex said he didn't need "24 ingredients" in an appetizer
Result: nervous, way-early-finish private chef guy gets chopped
Entree round
Surprise ingredients: quail, escarole, chocolate covered raisins, a whole coconut
+ Ric decides to make jerk quail, based on his jerk chicken.
+ He gives a short course in quail bone structure during voice over.
+ Alex, looking vexed, rues the fact that Ric has "36 ingredients" out
+ Ric compares jerk seasoning to a rock ensemble, calls it a torpedo of flavor
+ He exclaims, "Oy vey" as he crunches to finish. Says in voice over, "I could win this thing."
Ric's dish: jerk quail, coconut peas and rice, smothered greens
+ Mark says the dish looks complicated, but it's actually working (and later says it's one of the best things he's eaten on the show)
+ Geoffrey calls it "a yummy dish" and says he keeps going to back to eat more
+ Alex says she's "sort of speechless ... not my style of cooking ... have to tip my hat because it's really quite impressive." She looks pained to admit this.
Result: the very impressive executive chef lady goes out because she under cooks her quail. She looks she could have been the toughest competition.
Dessert round
Surprise ingredients: papaya, rice crackers, sake, jura erguel cheese
+ Ric says the ingredients are like a big band -- except for the rice crackers, who are like the guy who doesn't fit.
+ He decides to make a tart with papaya curd.
+ Matt, the remaining competitor, says in voice over: "Ric has been cooking longer than I've been alive."
+ Matt laments there are two "feet-flavored ingredients" in the basket (papaya and the jura erguel).
+ Ric decides to torch the cheese on a slice of papaya.
+ Ric's rice cracker tart crust doesn't come together, ends up as a sort of crumbly layer on the papaya slice.
+ His curd doesn't have enough time to chill.
+ He tosses the curd into a food processor with cream in an attempt to turn it into "a cloud." The cream refuses to whip.
+ Time is running out, he dashes to the pantry for mascarpone to mix into the non-inflating cloud. He just gets everything plated.
Ric's dish: toasted papaya tart with papaya curd (in this case "tart" is liberally used)
+ The judges ding Matt for his stingy usage of the cheese and rice crackers. And Alex says he drowned out the papaya with other fruits. They turn to Ric's dessert.
+ Geoffrey says it's "an odd desert."
+ Alex says the papaya curd is delicious, but the presentation is not great.
+ Mark says there's a lot going on.
+ During the judges conference, Alex says she appreciates Ric using the papaya in multiple ways -- and adds that he "exhausted" her.
+ Mark says Ric's dessert didn't really come together.
Result: sous chef Matt gets chopped. Ric Orlando wins! He's a Chopped champ and gets $10k.
In the voice over at the end, he says "I'm really happy I validated my style."
Congrats to Ric!
This episode is scheduled to run again on August 13 at 8pm.
New World Bistro Bar in Albany, at which Ric is chef/consultant, advertises on AOA.
photo via Ric Orlando
Hi there. Comments have been closed for this item. Still have something to say? Contact us.