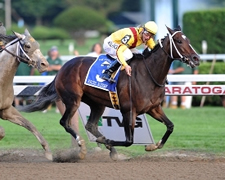 Superstar horse Rachel Alexandra is coming back to Saratoga. She'll be racing in the Personal Ensign Stakes August 29.
Rachel (we don't think she minds the informality) was the Horse of the Year in 2009. She won eight races last year, including the Preakness (one of the Triple Crown races) -- the first filly do so in 85 years. She also had a dramatic win in the Woodward Stakes at Saratoga before a huge crowd (she's the only filly to ever win that race).
As you might expect, NYRA is stoked that RA is coming back. It's even set up a microsite for her.
photo: Adam Coglianese/NYRA