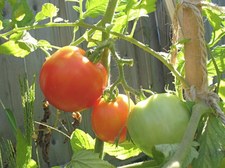 Brian emails:
Any suggestions on pick your own veggies? My garden sort of pooped out this year and I want tomatoes, cukes, zukes, beans...
Hmm... there are a bunch a pick-your-own fruit places, but we're not sure about PYO vegetables.
Your best bet is probably to just hit up a farmers' market or a farm stand. Of course, that doesn't give you twisting-off-the-vine experience.
So, anyone have suggestions for Brian? We'll expand this a bit to include good farm stands (quality, selection). Please share!
Hi there. Comments have been closed for this item. Still have something to say? Contact us.