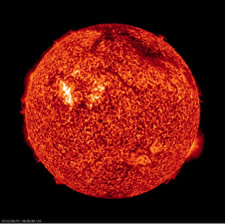 Thanks to "wonderful fireworks the Sun has been producing," there's a chance we could catch a glimpse of the aurora borealis tonight (you know, the Northern Lights.) [CS Monitor] [HSCFA]
Forecasts indicate New York State could be on the edge of the aurora's viewing area. Around midnight, look to the north for a red or green glow. Your chances will better the more north you are, and the darker the sky.
OK, about those fireworks on the sun...
From SpaceWeather.com:
On August 1st, the entire Earth-facing side of the sun erupted in a tumult of activity. There was a C3-class solar flare, a solar tsunami, multiple filaments of magnetism lifting off the stellar surface, large-scale shaking of the solar corona, radio bursts, a coronal mass ejection and more. ...
Some of the breakaway material is now en route to Earth in the form of a coronal mass ejection (CME).
In other words, the sun has sent zillions of particles shooting toward earth. When those particles hit the upper atmosphere, they get oxygen and nitrogen atoms excited (they become ionized -- that is, they carry an extra electron). These atoms are total lightweights and they quickly give up the extra electron (they can't hold their liquor, either). The light created when these electrons escape is the aurora.
photo: NASA
Hi there. Comments have been closed for this item. Still have something to say? Contact us.