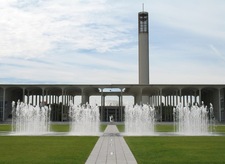 The Princeton Review released its annual college rankings this week (party schools, reefer madness, etc).
Here are the lists Capital Region schools made it onto...
UAlbany
#13 Least Beautiful Campus
#9 Dorms Like Dungeons
#5 Is It Food?
#8 Least Happy Students
#8 Long Lines and Red Tape
#4 Students Study the Least
RPI
#18 Election? What Election?
#12 College Town Not So Great
#13 Professors Get Low Marks
Union
#13 Major Frat and Sorority Scene
#13 College Town Not So Great
#11 Town-Gown Relations are Strained
Skidmore
#16 Best College Theater
#11 Dorms Like Palaces
#19 Most Accessible Professors
#5 Reefer Madness
#16 Least Religious Students
#5 Easiest Campus to Get Around
Siena
#13 Best College Radio Station
St. Rose
no lists
Russell Sage
no lists

We're always very skeptical of these lists. Here's how Princeton Review says it compiles them:
The 62 ranking lists are based on surveys of 122,000 students (average 325 per campus) at the 373 schools in the book during the 2009-10 and/or previous two school years. The 80-question survey asked students about their school's academics, administration, campus life, student body, and themselves. The surveys were completed online.
Hi there. Comments have been closed for this item. Still have something to say? Contact us.