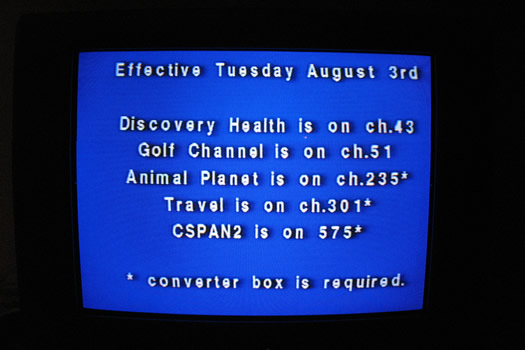 When we slumped down on the couch yesterday evening, we flipped on the TV and clicked around to the Travel Channel. Except it wasn't the Travel Channel. It was Discovery Health.
Who are these Discovery Health people and what have they done with Anthony Bourdain?
Flipping around some more, we found the screen above. Well... fine.
But here's the thing: we don't have digital cable. By choice. Yes, shocking. We have chosen to consign ourselves to 2002. We just never felt the need to pay the extra bucks to upgrade. The 70some channels that we already had seemed like plenty.
But now that means no more No Reservations. No more Dogs 101. No more random CSPAN2 wonking.
So we contacted Time Warner Cable.
Using the customer service chat function today we found out we could get the now-three-digit channels with a converter box. There's a promotion that would give us the box free for 12 months. After that it would be about $7.50 extra a month.
That's not much -- it's $90/year. But it irks us that TWC took away two channels that we really liked, and we now have to pay extra to see them. Especially when there are so many channels that we never watch (Spike, E!, TruTV, we're looking at you. Actually, Tru, we didn't even know you were in our lineup.)
The situation has us thinking about something we probably wouldn't have considered in the past: pulling the plug on cable. As it is, we already watch a lot of shows online or through Netflix via the Wii. And what's not available that way, we could probably buy a la carte through iTunes. It's something people are trying.
Of course, we would miss some stuff (college basketball, the Food Network), but we have a feeling that we might not miss a lot of it. And maybe we'd start doing crazy things like... reading more books.
We're not there, yet. But we're closer.
Hi there. Comments have been closed for this item. Still have something to say? Contact us.