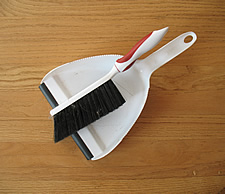 Lou emails:
Living on a busy street in downtown Troy, a certain amount of grime drifts through the windows. Though I'm a reasonably tidy divorced dad who was taught how to do cleaning chores as a kid, it'd be worth X dollars to bring in some pros a few times per year and pick up my slack. Folks who do this for a living and can catch everything up in a couple hours.
I know they're out there, but don't know how to find a good one or what it should cost. Natch there are mass-market franchise providers ("The Maids," others), and maybe they're fine. But I'll bet there are truly local, honest providers doing the same thing in Troy. I'd prefer that.
AOA-ers: What occasional maid service do you use in Troy? I'm not fussy and don't care so much about bonding, theft-safeguards, etc. (I'd stick around), just want good value for money. We're talking a ~1100 sq. ft. apartment.
Got a suggestion for Lou? Please share!
Hi there. Comments have been closed for this item. Still have something to say? Contact us.