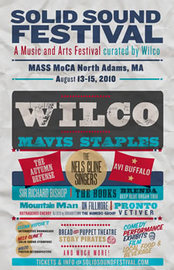 The Solid Sound Festival -- the three days of music and art at MASS MoCA curated by Wilco -- was this past weekend.
And it sounds like it went well. So well that MASS MoCA and the band might give it another shot next summer.
From Nate Chinen in NYT:
The Solid Sound Festival, which drew more than 5,000 people to Mass MoCA over the weekend, was conceived as a Wilco production, top to bottom. Mr. Tweedy and his band mates served as curators (their word), reserving space first for their own side projects and then for a handful of compatible acts. The programming, though uneven, had a strong center of gravity, a spirit of communion between the band and its fans. Wilco has created a festival in its own image, in other words, and by most measures it was a jubilant success.
From Matthew Loiacono:
From a spectator's standpoint, this festival couldn't have been set up any better. Short walks between stage areas, bounties of shade from the sun, $1 bottles of water, Intelligentsia coffee / espresso and tons of eye candy in-between. Most notably, the MASS MoCA galleries themselves acted as a palate cleanser if the music or outdoor activities ever became overwhelming.
From Greg Haymes for the TU:
From its very conception more than a year and a half ago, the Solid Sound Festival has been about the integration of music and art, and on Saturday afternoon at MASS MoCA it all came together beautifully.
Here are a whole bunch of great photos from the festival by Mike Wren for State of Mind.
From the Hartford Courat's Eric Danton:
It wasn't just the music. Instead of the bland, expensive Aramark food-service fare that characterizes most festivals (and, increasingly, music venues in general), there were real vendors selling real, reasonably priced stuff: ice cream from Herrell's in Northampton, Indian food from Spice Root in Williamstown, African samosas from Samosaman in Barre, Vt., beer from Burlington, Vt., brewer Magic Hat and, in a nod to Wilco's Chicago roots, coffee from Intelligentsia.
And from Flavorwire's Heidi Vanderlee (includes a big photo/video slideshow):
Steeling ourselves for the usual festival gripes, we were pleasantly surprised by two days of laid-back tunes and comfortable surroundings in the gorgeous Berkshires, with affordable, local eats and drinks, short lines, and (gasp) indoor bathrooms. Jeff Tweedy himself hinted at a round two for next summer, so here's hoping the inaugural Solid Sound was the first of many more to come.
That sounds like that's a good bet. From an iBerkshires interview with MASS MoCA's executive director:
Will Wilco and the Solid Sound Festival return next year?
Jeff [Tweedy] and I talked this morning, and we had a hard time coming up with any reasons not to do it.
Don't forget: The Restoration Festival -- the Capital District's own multi-day music festival -- is coming up August 28 and 29.
Hi there. Comments have been closed for this item. Still have something to say? Contact us.