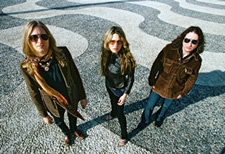 Updated with a sampling of vendors
Here's something that might be worth checking out on Wednesday: the annual At the Plaza Food Festival will be set up on the ESP from 11 am - 9 pm.
The event blurb says there will be 50 food vendors, which might make for a fun lunch stop. A sample of the vendors is after the jump.
And there's music, too. Among the lineup: locals Super 400 will be playing at 6:15 (that's them on the right, at the ESP even). And the Smithereens (yep, those Smithereens) will be playing at 7:45.
(Thanks, Glenna!)
photo via OGS
A portion of the vendor lineup:
Spacey Tracy
Cajun Catering
Maison Crepes
Guido's Frozen Desserts
Leon's Food Corp
G & L Gyro
Crazy Herb's Texas BBQ
Orapellos Pizza
Athen's Delite
Dom's Fried Dough
Dunkin Donuts Samples
German American Club
Fratelli Fried Dough
Wursthaus III
Ben & Jerry's
Skeeters
HMRC Inc
Centro Civico Hispanico
Golden Choice
Times Square Catering
Tammy's Dogs
Athen's Delite #2
Tomarc's of Troy
Ice Cream Man
Smith's Orchard
Thousand Islands Winery
Adair Vineyards
Faithful Friends
Roy's Caribbean
Capital Q Smokehouse
G & L Gyro #2
Big Don's Roadside
German Wurst Haus
Hi there. Comments have been closed for this item. Still have something to say? Contact us.