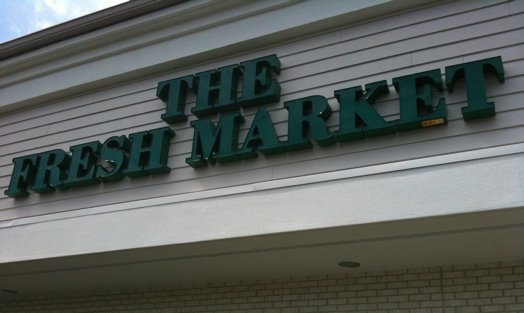 By Daniel B.
You would have thought they were giving away shopping bags full of diamonds. Yesterday's grand opening of the region's first Fresh Market was a seething mass of humanity.
Traffic was snarled up for blocks at the intersection of routes 9 and 155, and their jumbo-sized parking lot was filled beyond capacity. There wasn't even a shopping cart to be found.

On one hand that was probably a good thing, since all of the people inside made it difficult to move around, and the checkout queues stretched all the way across the store. But on the other hand, The Fresh Market shopping carts seem to be a key part of the experience.
You see, each cart has a built in vase at the far corner for you to put your fresh cut flowers, which are the first thing you see upon entering the store.

The thing that makes this market different from its competitors, both locally and elsewhere, is expressed beautifully with the simple notion that flowers need not be a special occasion purchase, but a part of everyday life. In a phrase, it's joie de vivre.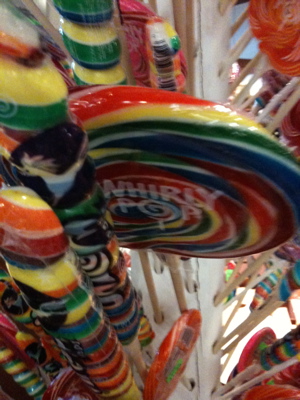 The Fresh Market is not the foodie heaven that is Whole Foods. It's not the bargain-priced everyday-gourmet market that is Trader Joe's. It's not the crunchy natural foods store that is the Honest Weight Co-op. And it's not the number one supermarket as rated by Consumer Reports that is Wegmans.

But it is a great place for the people of the Capital Region who love food.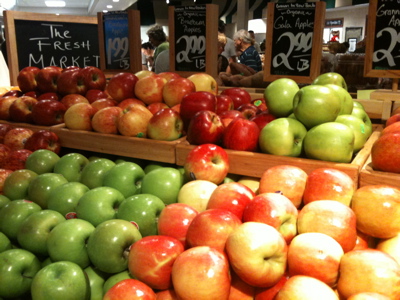 Its shelves are filled with hard-to-find culinary treasures that the food obsessed will enjoy. Mexican Coke, Vernors in bottles, Grade B maple syrup, organic whole milk that hasn't been ultra-pasteurized, raw varietal honey, rooibos tea, fresh wild king salmon, wild American shrimp, Vita Coco coconut water, and rough-hewn dried Italian pasta to name a few.
There is no ideology at play that banishes meat into a far corner of the store, or that prohibits a spot on the shelf for the occasional guilty pleasure of Fruit Loops.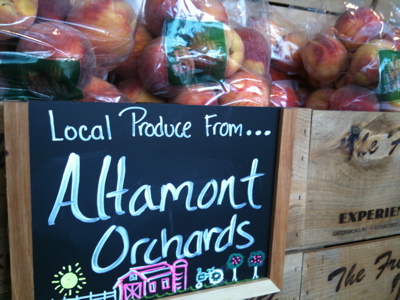 And all of these food treats, both high and low, are beautifully displayed in a warm setting. There are no florescent lights in wire cages. The Fresh Market has done a very good job at constructing what feels like a market rather than a grocery store. The use of green and white striped awnings, wood produce crates, and handsome chalk board signs help to create the illusion, as does the use of open space.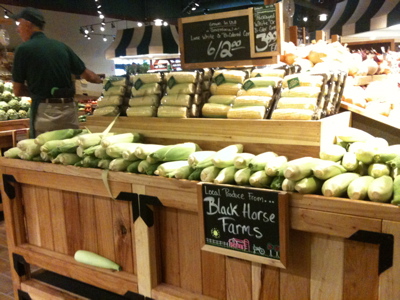 One might think that all of this ambiance and selection does not come cheap. Yes, there are many ultra high-quality products that are especially expensive. Some may also experience sticker shock on common grocery items like two liter bottles of soda. But the savvy shopper will see some deals, like their gallons of pasteurized organic whole milk, which are $5.39 versus $5.49 at Price Chopper and north of $7 at the Honest Weight Food Cooperative.

Organic apples are $2.99 per pound. Kashi Go Lean cereal is on sale at 2 for $5. Fresh all-natural chickens, untreated with antibiotics and fed on a 100% vegetarian diet, are $1.99 per pound. Giant cupcakes are $1.49 a piece. Parmigiano-Reggiano is $14.99 per pound.

Having never been to The Fresh Market before, I had high hopes for its cheese counter, which was sorely lacking. The cheeses are all pre-cut and pre-wrapped. Mostly they were industrially-produced specimens that lack true character. There was even a speck of mold on one piece of Parm Reg.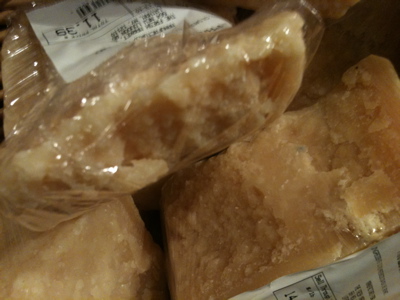 Still, it is a cut above what is available at Price Chopper and Hannaford. But in no way does it threaten Gustav and his widely beloved cheese selection.

Now, perhaps it was the glow of opening day in a new store, but I would be remiss if I didn't mention how friendly and helpful all of the employees were. Being cheerful and maintaining a smile when surrounded by throngs of people, many of whom are grumpy because of the less-than-ample parking and long lines, is no small task.

I am looking forward to getting back to The Fresh Market once the crowds have died down, and filling a cart with fun things to eat. The built-in vase may even inspire me to pick up some flowers.
Daniel B is the proprietor of Fussy Little Blog.
Update: Be sure to read mirdreams' comment -- she has a few more first impressions of the new store.
Find It
Fresh Market
664 New Loudon Road
Latham, NY 12110
Hi there. Comments have been closed for this item. Still have something to say? Contact us.