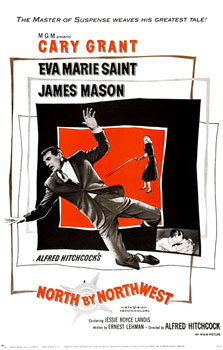 The Palace Theater in Albany has released the schedule for its 2010-2011 classic movie series.
It looks like a good slate: North By Northwest, Bonnie and Clyde, Butch Cassidy and the Sundance Kid and a bunch other favorites. The full schedule is after the jump.
The films run on Monday nights. They're $5 for adults and $3 for kids. You can buy a season pass for all 18 films for $45 (that's half price).
September 20: Viva Las Vegas (Viewers Choice)
Elvis, Ann-Margaret, a lot of songs.
October 4: North By Northwest
Cary Grant flees a crop duster, at the direction of Alfred Hitchcock.
October 25: The Rocky Horror Picture Show
Apparently there will be onstage performers, too.

November 22: A Streetcar Named Desire
Marlon Brando, Viviene Lee. Stella!

November 29: Bonnie and Clyde
Warren Beatty and Faye Dunaway as the eponymous pair.

December 13: 3 Stooges Film Festival
Six shorts from Moe, Larry and Curly (Shemp, too).

December 17: It's a Wonderful Life
It's holidays.

December 20: A Christmas Story
You'll shoot your eye out!
January 10: E.T.: The Extra-Terrestrial
What if ET had a mobile phone?

January 24: Chinatown
Jack Nicholson, Faye Dunaway, directed by Roman Polanski.

February 14: Dirty Dancing
Nobody puts Baby in a corner!

February 28: The Defiant Ones
A 1958 film starring Sidney Poitier and Tony Curtis, on the run from the police.

March 14: Butch Cassidy and The Sundance Kid
Paul Newman and Robert Redford.
March 21: Monty Python and the Holy Grail
It's just a flesh wound!
April 11: The Bridge on the River Kwai
It won seven Oscars.

April 18: The Ten Commandments
Charlton Heston parts the Red Sea.

May 2: It Happened One Night
Clark Gable and Claudette Colbert
May 16: The Godfather: Part II
Coppola should have stopped here.
Hi there. Comments have been closed for this item. Still have something to say? Contact us.