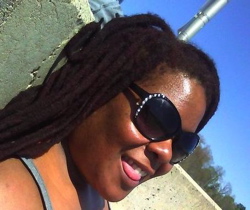 Every Monday night our friends at WEXT do this thing called My Exit -- local listeners get to come into the station and program an hour of music. So we thought it'd be fun to find out a little bit about these people and why they picked the songs on their play list.
Here's tonight's person:
Who?
Leslie Stevenson. I do Lindy Hop and Blues dancing, Swing and blues dance d.j.-ing, I cook lots of food for friends, once in a great while I sing, and in my spare time I'm a civil servant working for the Great State of New York.
How would you describe your musical taste?
I listen to a LOT of jazz and blues and love singing along to jazz standards. In my non-dance related music listening I get a bit stuck in the 1990s, and I'm okay with that. I cut my teeth on progressive and alternative stuff from the 80s and 90s. I know it's a cliche to say I listen to a little bit of everything, but it's true. There are some genres that I prefer over others, like swing jazz and rock, but even in my dj sets I'll try to mix it up. I have loves in all flavors of pop, rock, metal, alt-country, old school soul singers, female vocalists of all categories. I'm especially into it if I can dance to it or sing along.
Five Songs in Leslie's Show:
Little Miss Higgins-Bargain Shop Panties-Across the Plains
I recently discovered this song while searching for music to play at dances. It's really fun to dance to, swing-y with bit of country. Also the lyrics are cheeky. Dancers don't usually listen to the words, but I love funny slightly naughty lyrics.
Erin Harkes and the Rebound-Just Like Me-Special I Am
The first time I ever heard Erin Harkes' voice it totally blew me away. I love to sing along to this song and rock out to the scorch-y guitar solo.
Sloan-Deeper Than Beauty-Twice Removed
I have always been a huge fan of this band. Love the music, and they've always seemed nice guys too. I remember going to a show they played at Valentine's where somehow a bunch of my friends ended up on stage playing along with the band. It was one of the most fun things that happened at a show ever. I love the lyrics to this song too.

Luminescent Orchestrii-Knockin'-Too Hot to Sleep
A friend of mine from Austin was the first person to play me this song. It's wicked sexy. I've danced to it quite often, though it's not a dance song really. The violins make this song perfect for me.
Iron and Wine/Calexico-Dead Man's Will-In the Reins
I'd have to say that the album that this song is on is one of my hands-down favorites, and I don't have many of those. I listen to it all the time. This song is so simple and yet so gorgeous. Also it suits the occasional melancholy streak that shows up in my musical tastes.
You can hear Leslie's My Exit show tonight at 8 on 97.7 or at exit977.org.