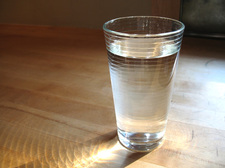 The City of Albany's drinking water took the top spot in the New York State Drinking Water Taste Test at this year's state fair. Albany's water was up against supplies from nine other municipalities, all winners of regional competitions.
So where does Albany get this great-tasting water? The answer is... Coeymans. The city has two reservoirs near there -- the Alcove Reservoir and the Basic Creek Reservoir (which is in Westerlo). The Alcove Reservoir was created in 1928 by damming the Hannacroix Creek, which flooded the village of Indian Fields. (They did, apparently, move the village cemetery.)
While we're on the subject We recently heard about a project -- called "Tap" -- aimed at getting local people to switch from bottled water to tap:
"Tap" is an organized effort to educate and persuade Albanites to reduce their carbon footprint by refusing bottled water and utilizing the city's municipal water supply. We aim to teach people ways to be healthy, save money, save the environment and support the local community by using tap water for hydrating needs.
Hi there. Comments have been closed for this item. Still have something to say? Contact us.