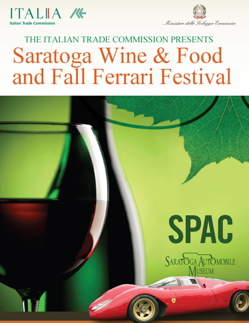 Next week is the last event of the season at SPAC-- the big Wine, Food and Ferrari Festival.
And the central event is the Grand Tasting on Saturday, September 11th from 1 to 5:30. More that 100 Italian and international wines will be available for sampling, there will be wine and cheese seminars, delicacies from local chefs and lots of Ferraris and other beautiful cars. Not a bad way to kill an afternoon.
Over 35 importers of Italian wines and food products will be offering tastings. Tickets to the Grand Tasting are $75 a piece -- but we've got 4 pair to give away.
Gourmet food, fine wine and fancy cars had us daydreaming about living like the other half does. Which brings us to the question we'd like you to answer to enter the drawing:
How do you "live rich" in the Capital Region?
Maybe it's where you go to splurge or treat yourself when you've got a few extra dollars. Maybe it doesn't cost anything at all but makes you feel like a million bucks. Anyway, tell us what it is and we'll enter you into the drawing. And of course, let us know what's so great about it in case we want to try it too. That part's not a requirement, but it's more fun to share.
The deadline to enter is Friday, September 3rd at 8PM.
Very, very important: One entry per person. You must answer the question to be eligible. You must post your comment by 8 pm on Friday, September 3rd, 2010. You must include a working email address (that you check regularly) with your comment. The winners will be notified by email by noon on Saturday-- and must respond by 5PM Tuesday, September 7th.
Hi there. Comments have been closed for this item. Still have something to say? Contact us.