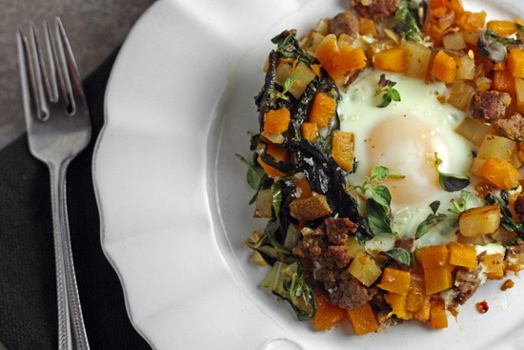 By Lauren Keating
The Honest Weight Food Co-op's LocalHarvest Festival is this Sunday in Albany's Washington Park. AOA is a media sponsor of the event, so we thought it would be fun to ask a few local food bloggers to come up with some easy meals made with local ingredients.
We start with Healthy Delicious Lauren's seasonal twist on breakfast for dinner.
In general, I make an effort to eat local. I love farmer's markets. I do a lot of shopping at Honest Weight. I seek out local brands in the bigger stores. So I really didn't think that the Eat Local Challenge would be a problem. But when it was time to cook something for this post, I was stumped.
It was the opposite problem from what you'd think. We have such an abundance of local foods that there were very few limits to what I could make.
I wandered aimlessly around Honest Weight looking for inspiration and zeroed in on an incredible looking package of Hot Italian sausages from Grazin' Angus Acres in Ghent.
I wanted to pair the spicy sausages with something sweet. I remembered the butternut squash hash that I ate all last fall, and decided that it was time to give an old favorite an upgrade.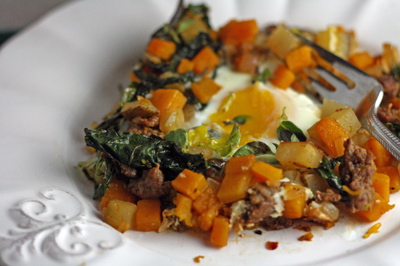 This dish is nothing if not a celebration of local foods and flavors. I combined the sausage and squash with apple cider from Goold Orchards in Castleton ( via Hannaford) and chard, and fresh herbs I picked up at the Troy Farmers Market. In order to save myself the trouble of poaching eggs or having to clean a second pan, I cracked the eggs from Cornell Farms, Hoosick (via Honest Weight) right on top and baked it until they were done.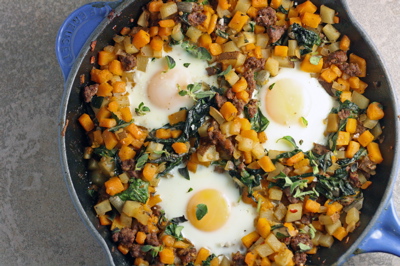 Here's the recipe:
Sausage and Butternut Squash Hash with Baked Eggs
3 links hot Italian sausage(about ¼ pound)
¼ cup diced onion (about ½ medium)
2 cloves garlic, minced
1 butternut squash (approx 2 pounds), peeled and diced
1 medium potato, diced
½ cup apple cider
3 leaves of chard, chopped
Eggs (however many you want)
2 Tbs fresh oregano
Sea salt and black pepper
Remove the casings from the sausage and crumble it into a hot, oven-safe pan set over medium heat. Cook the sausage through, then remove it from the pan and set it aside. Add the onion and garlic to the pan and cook for 3 or 4 minutes, until they soften. Add the squash, potato, and cider.
Turn the oven on to 400. While the oven preheats continue cooking the hash, stirring occasionally. By the time the oven is heated, the hash should be ready - the potatoes will be cooked through and the squash will be soft. At this point, add the sausage back in, along with the chard. Stir it until the shard wilts.
Remove the pan from the heat and create several shallow wells in the hash (one well for each egg). Crack the eggs into the wells. Transfer the pan to the oven and bake for 10 minutes, or until the egg whites are set. Remove from oven, sprinkle with oregano, salt, and pepper, and serve.
Serves 2-4.
Sources:
Sausages from Grazin' Angus Acres, Ghent, NY
Apple Cider from Goold Orchards, Castleton, NY
Eggs from Cornell Farms, Hoosick, NY
Produce from various local farms
Yep, Honest Weight does advertise on AOA. And, as we mentioned, AOA is one of the media sponsors of the Local Harvest Festival (we're big fans of local food...mostly because because, you know, we like to eat). We did this series of posts because we thought it would be fun.
Hi there. Comments have been closed for this item. Still have something to say? Contact us.