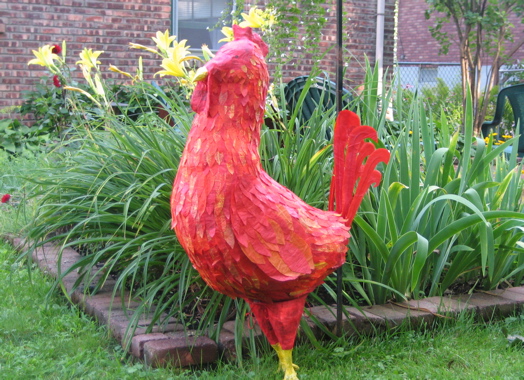 Annine Everson spends hours creating works of art.
And when she's done, people break them.
Everson makes piñatas of all shapes, sizes and colors. She makes them for parties -- and for performance art.
Yes, we scratched our heads about that last part, too.
But after the jump, Albany's only piñata making performance poet explains the allure of breakable art, piñatas and performance -- and her philosophy on strings vs. paddles.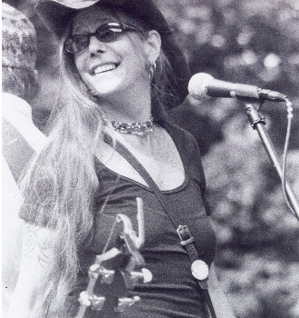 Why piñatas?
I've always loved the arts, but I had a hearing loss and I realized early on that I had no practical musical talent. My grade school choir teacher told me not to sing out loud at public performances. I loved dancing but I wasn't very graceful. Painting and drawing weren't my thing either. I always liked sculpting, but the materials aren't cheap.

Back in the 80s we moved to the burbs, and I was trying to come up with ways for my son to meet new kids. I'd invite the kids over to make projects: kite making, Frisbee kits. Then I remembered elementary school and making piñatas with balloons. You don't need a kit for that -- just some balloons, strips of newspaper, flour and water. The kids were into it for literally about 10 minutes. The flour and water was too goopy and they were getting bored putting the strips on with the balloons. But I was like, "Wow, this is cool. "
And you can't get much cheaper than piñatas for sculpting. Flour is relatively cheap and a Sunday paper can make a life-size piñata.
You make life-size piñatas?
I've made them as small as little Christmas ornaments you can hold in your hand, and as large as six feet or more.
With balloons?
No. I did a lot of experimenting. Now I use wire hangers, plastic garbage bags and duct tape. I've come to realize that there is nothing you can't make in this world with wire hangers and duct tape. (laughs) Duct tape really solves everything. Except holding a muffler on. It's not good for that.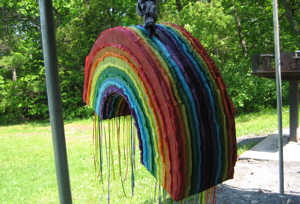 OK, so what's your piñata breaking philosophy? Strings or bats?
Bats. Definitely bats. But I'll do both. I once came up with a house where you pull open the windows and doors and find things inside. That was also a huge success. But it was a lot of work.
You spend so much time making them, and in the end, someone breaks them. Is that hard?
Actually, I'm all for that. How often do we accidentally break things? How often do we break things in frustration or anger and then say, "Oh, I wish I hadn't done that!"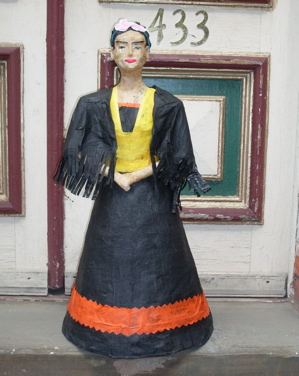 I think it's kinda neat to have something that's sole purpose is to be broken. There is no guilt, no karma hits or anything. You are meant to break that thing. In fact, I kind of had the opposite problem. Sometimes people like them so much they don't want to break them. It's a piñata. It's supposed to be broken! They don't last forever. One Christmas I made little ones with ornaments inside and one friend wouldn't break it. Break the damn thing, there's something really cool inside! (laughs)
When I make them for kids, it's funny, because at first they can be a little shy about breaking them. But they usually get into it, and once the piñata breaks it's a free for all. But there was this one time when a friend asked for a Barney piñata for her four year old. I usually don't make trademarked images -- but I did this one for her. She showed me the tape of the party. They brought out the piñata and all the little kids were like "Barney! It's Barney!" Then when it was time to hit it, they all started crying "Nooooooo. Don't hit Barney!" When they finally broke it, these kids just sat quietly on the floor sharing the candy. It doesn't usually work like that.
What are some of your favorites?
My first piñatas were for adults. They were Bozo heads. And they were stuffed with things I won't mention here. We used to have these joint birthday parties for all our friends with September birthdays -- we called them Bozo parties. So for a while I made a lot of Bozo heads. The last one of those was the birth of Bozetta. It was a spoof on the Botticelli Birth of Venus and it was a naked Bozetta coming out of a clown car. It was huge. I had to rent a truck to transport it.
But now I make all kinds of things. For weddings I do lovebirds and wedding cake piñatas with little bride and groom paddles.
There are some I make annually, like the three pigs. A friend of mine has a pig roast every year and he commissions three pigs for that. It started out with three little pigs, then three flying pigs, then three space pigs. This year there was one in a cap and gown and a barbecuing pig.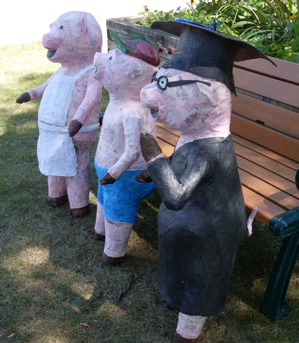 Actually, this has really been my year of piñatas. In an average year I make 8 to 12, but this year I've made 48!
I try not to make replicas of real people anymore. This woman wanted me to make one of her husband for a party. It was like seven feet tall, and he loved it -- but he wouldn't let anyone break it! I thought, "What are you going to do with a seven foot replica of yourself?
I love my Bell Bottom Butt piñata -- I made it to go along with a poem about David Cassidy. I do a Santa Claus and a Cupid that I use in my performances.
How do piñatas and performance poetry go together?
Whenever I travel, I journal. And one little piece of my travel journal pertained to going through Tennessee. I called it Jesus on the Scene. When I wrote it, I just thought about doing a piñata of a cross and stuffing it with crosses. I had these annual parties and my friends were musicians, everyone performed -- so I tried it there. I read the piece and broke the piñata and people loved it. So I did it at the QE 2 [now the Fuze Box], and I thought this is my niche. It's my thing, and if I'm messing it up, I'm the only one who knows it.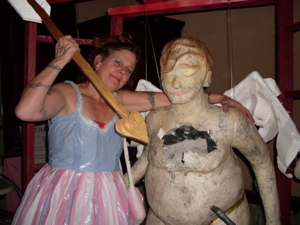 I've done them with Cupid for my poem Cupid is a Bastard. I let people in the audience take a whack at him. I also have a Santa one that goes with my poem Santa Scorned.
Wait, you hit Santa?
We all had times in our lives, especially when in our greedy youth, when we were disappointed by Santa. So I read the poem and let people take turns breaking the piñata.
What's the audience reaction like?
Folks really seemed to enjoy it. The piñata performances have caught on. That's when I started calling it Breaking my Art. People had trouble breaking my art and I said "No, break my art!" And there are wonderful musicians that will not only play with me in performance, they've recorded with me.
I love this area because anything you can dream of to do, there are folks here that will make that happen -- if the focus isn't on making money and if you have the motivation.
There is a venue for what you do and there are a group of people who will help you. It's hugely supportive here. It's one of the reasons I've never successfully moved away. I lived in Southern California for a couple of years. I thought about moving to Asheville, North Carolina -- it's a beautiful place, with a great folk art and literary scene. But it wasn't Albany.
Where else can somebody like me who can't sing and can't play an instrument, realize my little rock star dreams.
This interview was edited and condensed.
Say Something!
We'd really like you to take part in the conversation here at All Over Albany. But we do have a few rules here. Don't worry, they're easy. The first: be kind. The second: treat everyone else with the same respect you'd like to see in return. Cool? Great, post away. Comments are moderated so it might take a little while for your comment to show up. Thanks for being patient.