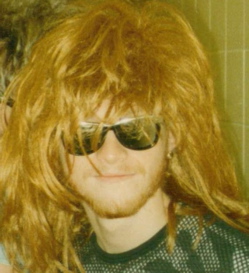 Every Monday night our friends at WEXT do this thing called My Exit -- local listeners get to come into the station and program an hour of music. So we thought it'd be fun to find out a little bit about these people and why they picked the songs on their play list.
Here's tonight's person:
Who?
C.J. Lais from Albany
How would you describe your musical taste?
I'd like to be creative and say something different than "I love all kinds of music" or "my preferences run from A.A. Bondy to ZZ Top," but all that's true. We all have a soundtrack to our lives, but I really want every minute of my day to be backed with the music playing in my head. Expect plenty of Paul Simon and Stevie Wonder - my desert island guys. Add to it a healthy dose of 60s and 70s soul and funk, Motown and Stax, singer-songwriters, folk, rock, pop, jazz, blues, country, gospel, hip hop, Americana, Big Band, ragtime, Gregorian chants, Tuvan throat singing, reggae, Celtic , Balinese gamelan, Tejano, Tom Jones ... you get the idea.
A few songs from C.J's My Exit show:
This is my second My Exit show so I thought I'd try out a theme, in part to help me narrow my choices down from the thousands and thousands of songs bouncing around my brain. I went with some of my favorite duets and still have a list 17 miles long. Plus, it's kind of like sneaking in twice the fun.

Portland Oregon - Loretta Lynn & Jack White
If you love country, if you hate country. If you love the garage punk-blues of the White Stripes, if you hate it. This is the song for all of you. What shouldn't work works like magic. Somehow Jack's alternative edge gave us Loretta's most "country" and most heartfelt album in years.

Winter Song - Sara Bareilles & Ingrid Michaelson
It's only coincidental that these two glorious voices are singing about winter because they could be extolling the virtues of SPF 50 on a sticky August day and still sound as chilling. I'm tempted to say this should be a holiday season standard, but I don't want to pigeonhole it.
Ain't No Mountain High Enough - Marvin Gaye & Tammi Terrell
Marvin Gaye is one of the greatest soul singers of all time and his duets are legendary. Tammi Terrell is his ideal singing partner and their debut single is still their very best, I think. As close to perfection as you can get in 2½ minutes.
Let's Do It - Paul Westerberg & Joan Jett
Paul Westerberg. Joan Jett. Cole Porter. What could go wrong?

Picking Up After You - Tom Waits & Crystal Gayle
Leave it to the genius that is Tom Waits - who spent some time in Albany years back filming "Ironweed" - to craft a modern classic soundtrack from a movie considered one of the biggest flops of all time, "One from the Heart." Waits, who I also featured on my first My Exit, enlists unlikely partner Crystal Gayle for this ultimate kiss-off song, complete with an actual kiss-off to close out the set.
You can hear C.J.'s My Exit show tonight at 8 on 97.7 or at exit977.org.
Hi there. Comments have been closed for this item. Still have something to say? Contact us.