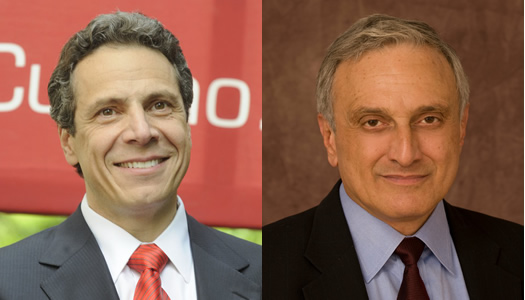 For what seems like forever now, the conventional wisdom has been that Andrew Cuomo will cruise to an easy win in the race for governor. And the poll data backed up this view.
Until now. (With a caveat.)
A Quinnipiac poll out today of likely voters reports that Cuomo leads Carl Paladino by just 6 points, 49-43 (margin of error 3.6). And Paladino leads Cuomo among independents, 49-43.
These results are quite a contrast to other poll results. A Rasmussen poll out earlier this week reported Cuomo was up 54-38. And in mid-August, the Siena poll reported that Cuomo was ahead of both Lazio and Paladino by more than 30 points in hypothetical matchups.
It's not surprising that Paladino has gotten a bump after all the attention from winning the Republican primary -- there were people who probably didn't know, or only vaguely knew, who he was before that.
But here's the caveat to today's Q poll: it doesn't include Rick Lazio (nor did the Rasmussen poll). And, so far at least, Lazio is still in the race on the Conservative Party line. And if he stays in, you gotta think he's going to draw votes that would otherwise go to Paladino.
Political stat nerd Nate Silver tweeted today that leaving Lazio out of the poll was "pretty clearly wrong." As of yesterday, Silver's model was forecasting Cuomo had an almost 97 percent chance of winning the governorship. But the model has its own caveats -- among them, it was based on the mid-August Siena poll.
So take all these numbers with a grain or two of salt. There are 41 more days until Election Day.
Cuomo photo: Cuomo campaign Facebook | Paladino photo: Paladino campaign Facebook

Hi there. Comments have been closed for this item. Still have something to say? Contact us.