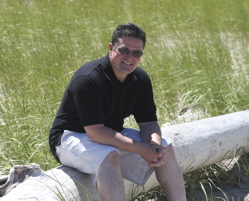 Every Monday night our friends at WEXT do this thing called My Exit -- local listeners get to come into the station and program an hour of music. So we thought it'd be fun to find out a little bit about these people and why they picked the songs on their play list.
Here's tonight's person:
Who?
My name is Richard Ruotolo and I'm a graphic artist living in Troy. Many people have described me as the luckiest guy they know, but my luck comes from a lot of hard work and prayer and of course lucky enough to be married to a smart sexy woman. This year, my wife, Michelle and I celebrate our 15th wedding anniversary and I have an eleven year old son, Matthew. Growing up in Troy I have always had a passion for the arts, mostly drawing. I had dreams of leaving Troy, going to Disney and studying to become an illustrator or an imagineer. Life has led me in another direction -- graphic arts. I currently work for Cranberry Productions, the owners and producers of the longest running stage play in America, Shear Madness.
I have been truly blessed with a beautiful wife and an amazing son and great family and friends. As a family we enjoy many things together; music, traveling, food, praying, movies and games and spending time with family and friends. I enjoy volunteering for my son's school and for our church but my passion will always be with photography and graphic design. Hope you set aside an hour to listen to MY EXIT on WEXT. I guarantee you will enjoy.
How would you describe your musical taste?
Many years ago, my wife, (then girlfriend), introduced me to the Christian Church and ever since then I have been growing in my relationship with God and family. The praise and worship music of the church moved me in a way nothing else has before. I still do occasionally listen to some main stream music but I find myself listening to more positive and uplifting music with a message and clean lyrics that I can also enjoy with my son.
Three songs from Richard's Show:
Today is the Day -- Lincoln Brewster
Lincoln Brewster works as a worship leader in California and his music is just fantastic. A few years ago my wife and I with some friends saw him in concert at Grace Fellowship in Latham and it was the best concert I had ever been. At that concert he debuted this song, playing it last and left the stage giving the glory to god. It was so very powerful.
Give Me Your Eyes --Brandon Heath
The first time I heard this song, I wanted to play it over and over again. It stops you in your tracks and helps you realize everyone around you. It reminds me, its not all about me but instead about how to care for the people in need you may or may not meet in passing each and every day. The video for this song is quite incredible as well.
Blink -- Revive
is a great song to help you appreciate every thing in life. There is no stopping time, everything happens in a blink an an eye. This song reminds me to slow down and enjoy every moment with the people I love. I thank God for the many blessings he has given me. The only thing that matters is how we have loved and I don't want to miss even just a second more.
You can hear Richard's My Exit show tonight at 8 on 97.7 or at exit977.org.
Hi there. Comments have been closed for this item. Still have something to say? Contact us.