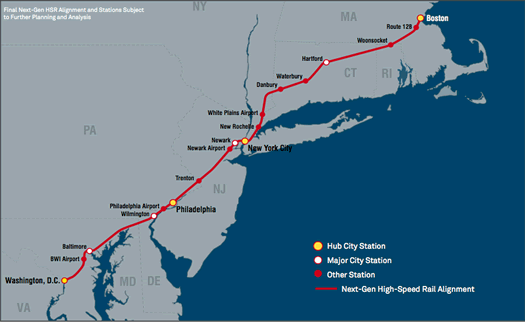 Sometimes we have this transit fantasy in which the Capital Region is connected to other cities via high-speed rail. Headed for New York City? One hour. Boston? A one-magazine trip. Buffalo? Why? (We kid. Sort of.) It could have a profound effect on this region.
But the more this issue develops (or, you know, doesn't), we're thinking we might be traveling via jet pack before we get high-speed rail here.
Amtrak released a report on its high-speed rail aspirations for the Northeast Corridor yesterday. A few highlights:
Average speed: 140 mph
Washington to Boston: 3 hours
New York to Washington: a little more than 1.5 hours
Cost: $117 billion ($42 billion if it's all plunked down now)
Funding in place: no
Projected completion date: 2040
Yep, 30 years from now. And high-speed rail makes a lot sense along this corridor -- it's jammed with people and a lot of them already ride trains. Even so, the cost, planning and politics make the project a long shot. [The Transport Politic]
And despite all the talk about New York State hopping on board with high-speed rail, that's not looking likely, either.
Of course, things change. The political situation could shift. The economy could (somehow) get a lot better. The price of oil could way up.
Or not. So... where do we get fitted for a jet pack?
image: Amtrak

Hi there. Comments have been closed for this item. Still have something to say? Contact us.