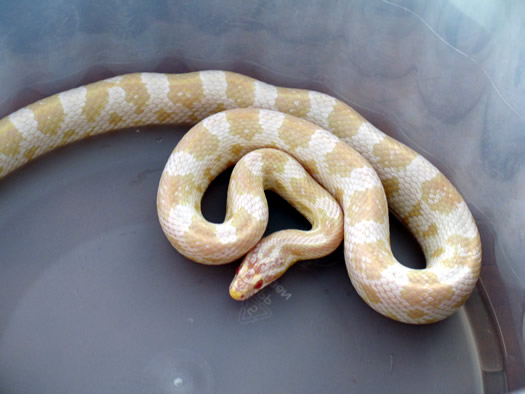 When you rent an older apartment, you kinda have to expect a few unwanted visitors: some odd bugs, maybe a mouse -- a bat, if you're unlucky.
But a three-foot-long white snake?
No way. No. @#$%. Way.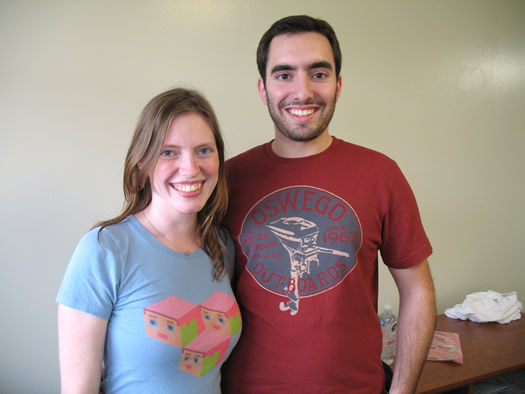 Gillian Gay and Jesse Crescent -- both UAlbany seniors -- said they heard their Bengal cat, Enzio, rustling with something in the spare bedroom of their Morris Street apartment Monday night. So Gillian got up to check it out.
"And then I heard a scream," Jesse says.
Enzio -- and then Gillian -- had found what would turn out to be a three-foot-long albino corn snake in the spare room. Gillian said Enzio jumped from the middle of the room up onto the bed and was ready for action.
"He's a pretty badass cat," she says. "Yeah, he would have fought him," Jesse adds.
Thankfully, it didn't come to that. They grabbed the cat and, as they described it, barricaded themselves in another room.
OK, let's stop right here and consider the situation
Corn snakes -- albino or otherwise -- are not native to upstate New York (their habitat includes the southern US, as far north as southern New Jersey). They're non-venomous. They kill their prey -- usually rodents -- by constricting them.
So what's it doing in Gillian and Jesse's apartment?
Kenneth Barnett -- a wildlife expert from Wilton who identified the snake for AOA (we sent him a photo) -- says the snake is almost certainly an escaped pet. He said this variety (known as a "snow" corn snake) has been bred specifically for the pet trade -- and it's very popular with snake people.
But Gillian and Jesse are not snake people. "That's my biggest fear, snakes," Jesse says.
Snake in the guest bedroom, now what?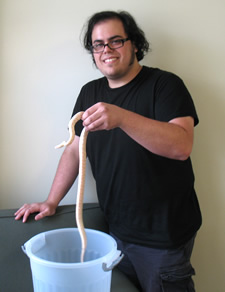 So, it's around 1 am and Gillian and Jesse -- along with Enzio -- have sealed themselves off from the snake. They call the non-emergency number for the Albany police. The dispatcher tells them to call a pest control service -- no answer. Then they called animal control -- again, no answer. They called the APD again and the dispatcher said she wasn't sure what to tell them -- that maybe they could send a car over.
So, they called their friend Ethan Ullman, a UAlbany junior. And Ethan came to the rescue.
"I grew up in Averill Park, kind of a country area," Ethan says. "Anytime we saw a snake we'd pick it up and play with it."
"He's a good friend," says Gillian.
With Ethan's help, they located the snake again. Gillian found it by poking a pile of sheets with a Swiffer handle -- she says she screamed again and then pointed it out with a laser pointer.
Ethan scooped up the snake into a plastic flour container. He then went to Price Chopper and bought a clear plastic trash can for the snake and poked holes in the lid for air. He secured the top with duct tape. "The duct tape gave me peace of mind," he says.
Ethan's now looking for a home for the snake.
So... this is unusual, right? (Please say yes)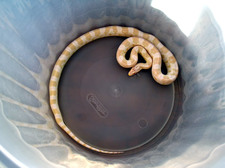 Kenneth Barnett -- the wildlife expert -- says he gets called about 10 times a year for a snake that's shown up, uninvited, somewhere in the Capital Region. Many times the snakes are native species that just wandered in.
But he says he's noticed lately that more of his calls are for non-native species. He was recently called to Schenectady after police got a call about "a large white serpent" on someone's lawn. It turned out to be an albino California king snake. And earlier in the summer, he was called to pick up a South American boa constrictor.
Barnett says reptile keeping has gotten more popular as a hobby over the last decade, so there are more of these exotic snakes around. And he says the warm summer might have prompted more of them to escape, which he says they're very good at.
Gillian and Jesse say this week wasn't the first time they had seen the corn snake. About a month ago they noticed Enzio tapping on a window, so they looked out and saw the snake in the ivy that clings to the side of the apartment building. And they had heard that a neighbor upstairs had previously found the snake and tossed it out a window.
They say they're both from relatively rural areas, but this is the closest encounter they've had with a snake -- a fact they find kind of odd, considering it happened right in the middle of Albany.
Coincidentally, they're moving out of the apartment this week. They seem pretty happy about that. Said the Jesse on Tuesday: "I didn't sleep last night. I kept thinking [the snake] was still in the apartment."

Say Something!
We'd really like you to take part in the conversation here at All Over Albany. But we do have a few rules here. Don't worry, they're easy. The first: be kind. The second: treat everyone else with the same respect you'd like to see in return. Cool? Great, post away. Comments are moderated so it might take a little while for your comment to show up. Thanks for being patient.