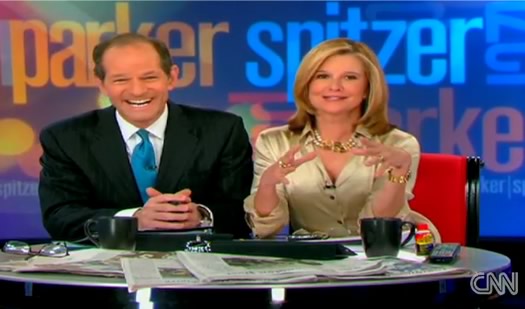 After watching the debut last night of Eliot Spitzer's new CNN show Parker Spitzer, it seems the critics were feeling Jay Sherman-esque.
It stinks!
Time's James Poniewozik: "Dear CNN: Nothing personal, I just don't want to be that close to Eliot Spitzer and Kathleen Parker. The new she-said-he-said show, Parker/Spitzer, opened last night with the two hosts and a gaggle of guests crowded together around a round table the size of a medium pizza and, ugh, it was just too close. I think I may have felt someone's knee touch mine."
Gawker headline: "Parker Spitzer Is Exactly as Useless as You Thought It Would Be"
The National Review's Greg Pollowitz: "Horrible. Simply a horrible show."
The New Republic's Jesse Singal: "Then came the "Political Party," which I sort of hoped I had hallucinated. Spitzer, Parker, and four panelists sat around a table littered with newspapers (Why? Were they worried there'd be a lull in the conversation and they'd have to search for something to talk about?) and responded to pointless prompts with dumb chunks of nothing. That's a harsh-sounding description, but then again, for the first round of the party, Parker instructed the panelists, "We're gonna go around the table and everybody has to say something nice about Sarah [Palin]." So that happened."
NYT's Alessandra Stanley: "The ickiness factor of "Parker Spitzer" may subside, but the first glimpse of CNN's latest offering on Monday was hard to watch. Former Gov. Eliot Spitzer of New York and the conservative syndicated columnist Kathleen Parker playfully, almost flirtatiously, discussed the news of the day -- "Crossfire" meets "Moonlighting." Last week, Larry King told the duo that they had "chemistry" -- if so, it carries a queasy whiff of sulfur."
The Baltimore Sun's David Zurawik: "... what a load of obnoxious, self important noise [Parker Spitzer] is."
LAT's Melissa Maerz: "'Parker Spitzer' found its hosts engaging in kitchen-table conversation so polite, you could almost imagine cloth napkins folded neatly in their laps."
Dan Kennedy in The Guardian: "The segments between commercials were over in a flash, hurtling by so quickly that the guests barely had a chance to get in a few words. Yet, taken as a whole, Parker Spitzer felt like it was never going to end."
Entertainment Weekly's Benjamin Svetkey: "... judging by today's first episode, Parker Spitzer doesn't look like it's going to be attracting too much attention."
NYDN's David Hinckley: "On their debut show, Spitzer and Parker came off as slightly stiff pros who don't yet quite know how to talk to each other. Spitzer in particular tended to jump into everyone else's sentences, which was annoying, though not fatal."
Mediaite's Steve Krakauer: "Spitzer and Parker are both compelling television personalities, and with that foundation the show has a great chance to ultimately succeed."
screengrab: CNN
Say Something!
We'd really like you to take part in the conversation here at All Over Albany. But we do have a few rules here. Don't worry, they're easy. The first: be kind. The second: treat everyone else with the same respect you'd like to see in return. Cool? Great, post away. Comments are moderated so it might take a little while for your comment to show up. Thanks for being patient.