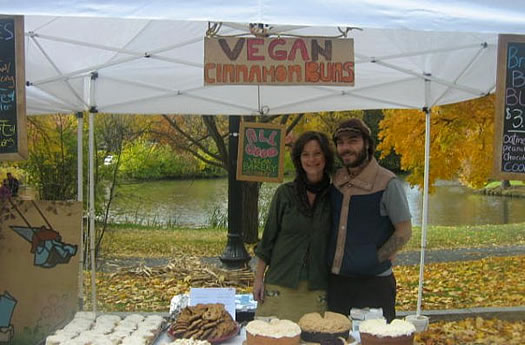 We've been curious about the community supported bakery that All Good Bakers is starting up since hearing about it a few week back. For a couple of reasons:
1. We're always interested to hear how people are finding creative ways to start up sustainable local businesses.
2. Cinnamon buns.
So we bounced a few questions to Britin and Nick Foster, the married couple that owns All Good Bakers. Britin bounced back answers about how the CSB will work, the difficulty small local food companies have finding kitchen space and... cinnamon buns hot out of the oven.
First, a quick bio: Nick and Britin live in Albany's Whitehall neighborhood. He grew up in Clifton Park, she's from North Carolina. She says they first met in California about 10 years ago -- and then again in a North Carolina coffee shop a few years later. They moved to Albany shortly after that. They have a three-year-old daughter.
Under the name All Good Bakers, they've been selling organic baked goods (including some vegan items) at the Delmar Farmers' Market.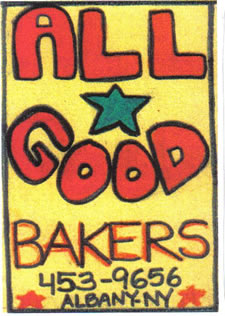 So, how did the idea for a community supported bakery come about?
We have been brainstorming all summer about how to continue our bread/baked goods business through the winter - we've been working farmer's markets for about 6 years, but there is a serious lack of winter markets nearby (besides Troy which has a lot of bakers already).
We started with the idea of piggy-backing with a meat CSA to offer bread with those shares. Pretty quickly it dawned on us that we should just begin selling shares to the general public. I did some research about other CSBs and discovered that the business model is viable (community supported models are branching out). We did some market research with our customers, found a kitchen to rent, navigated the health department and permits process and are in the process of acquiring equipment and rental partners (other small producers). Our health department permit is still pending inspection, but our papers are filed.
Why go this direction instead of sticking with farmers' markets or opening a bakery space?
We really don't have the capital to invest in a full-time bakery space, nor with a toddler do we have the time to dedicate the long hours both of us would have to work to make one successful. We'll continue working the markets in-season. The up-front capital the community supported model will bring us will enable us to bake with organic flours and local ingredients (important to us) and it will allow us to run our own business and still have time for family. We want to grow slowly, build a solid customer base and then perhaps expand.
Immediate thoughts are: form a coalition of bakers to rent the kitchen space when we're not using it. Albany-proper has almost no commercial kitchen space for rent (we had a hell of a time finding one - we contacted over 50 churches, community buildings, restaurants, etc.). There are a lot of small producers here preparing enhanced agricultural products but no hyper-local kitchens available for part-time rental to allow them to expand.
We'd like to help other small businesses grow by renting for a reasonable rate (we're thinking $10/hr with a discount for larger blocks of time). Our landlord is receptive to the idea and we're very glad to have found him - we'll help a small local business by renting from him.
Eventually we'd like to bring in members of the community who don't always have affordable access to healthy bread and begin some kind of exchange program - someone comes in to help us out with the baking, they learn a variety of techniques from all the bakers and take home some of the proceeds of their effort. This is a loose idea right now - we're brainstorming ways to arrange something like this and will be soliciting our shareholders opinions about how to make it happen. It's important to us to benefit the larger community somehow with this effort.
What can people expect to get from a CSB share?
We'll have 3 options from which to choose, 1, 2 or 3 units per week. Each unit constitutes one loaf of bread OR one group of baked goods per week. We'll be offering Rustic Italian, Whole Wheat, Spelt, Rye, Hearty Multigrain & a variety of Baker's Pick specialty loaves, as well as Bialys, Croissants, Seasonal Scones & Muffins, Vegan Cinnamon Buns & special order cakes/bulk orders.
[Here's an info sheet with more details. And a sign-up sheet. Units are $6 per week -- that's $156 for half a year.]
What's your baking/culinary background?
We are both self-taught and have been working in restaurants since we were 15 (me off and on, him steadily). Nick learned how to bake from his grandmother, who every week made their family of eight's bread and baked goods.
"I think attitude is everything -- being reasonable, respectful and responsive to customers, vendors, landlords, and press goes a long way toward building a successful business."
I've always enjoyed baking cakes & sweets for family & friends, but at one point we became vegan and I starting experimenting more often to satisfy my own cravings. We're no longer vegan, but there is a market for vegan sweets in Albany so we have continued along that vein by continuing to offer some animal-free items.
Nick is the primary baker -- he prepares all of the bread and almost all of the baked goods. The real creativity lies with him and it sustains the long hours required to bake fresh, in volume. He's passionate about perfecting his recipes and using quality ingredients to ensure everything meets his high standards.
Where will you actually be baking the products?
We'll be renting a small kitchen space from Mark Guido of Guido's Frozen Desserts on Quail Street. Mark has had an Italian ice truck business for almost 30 years here in Albany -- he's great.

How's the response so far to the CSB? How many people are signed up?
We have received quite a lot of requests for information (roughly 200 via email), we have about 15 members fully signed up so far (we launched last Friday).
The deadline for sign-up is October 24 so we're hoping to get 150 by then. A lot of people seem to think it's a great idea and we're really excited about the positive feedback we've received. We have friends helping to get the word out and other bloggers have graciously written us up so we have been gaining momentum.
We think the fact that people will know their bakers, the ingredients we use & where we get them from, and that we always bake from scratch is really what interests our potential shareholders.
[Britin says they don't have a minimum number to move ahead with the CSB -- they'll start with however many they get by the October 24.]
You're thinking creatively about your business -- and you also seem to be doing a good job getting the word out. Any advice for other people trying to start up their own small business?
We are kind of flying by the seat of our pants here -- we've never run our own business (except for working the farmers' markets) and neither of us went to college, but we're utilizing all the skills we've learned along the way in life. I think the years we have spent baking for farmer's markets has put us directly in touch with what the community wants -- listening and responding to our customers is really the key.
As far as getting the word out, I would say to use every appropriate, affordable venue available to reach your customers. I think attitude is everything -- being reasonable, respectful and responsive to customers, vendors, landlords, and press goes a long way toward building a successful business.
We also take care to streamline all of our processes so they remain somewhat simplified -- we do everything ourselves so it's important the organizational aspects of running our business don't become too complicated and overwhelming.
What's your favorite baked good?
Our cinnamon buns are my favorite. Our daughter and I still have one every week hot out of the oven with oozing icing -- they are true comfort food! Nick likes the bialys and croissants -- they both have taken a considerable amount of time to perfect so the reward is particularly sweet.
____
All Good Bakers is also involved in another local food startup -- the Delmar Dinner by Bike project.
This interview has been lightly edited and condensed.
photo: Jen Felitte via All Good Bakers
Say Something!
We'd really like you to take part in the conversation here at All Over Albany. But we do have a few rules here. Don't worry, they're easy. The first: be kind. The second: treat everyone else with the same respect you'd like to see in return. Cool? Great, post away. Comments are moderated so it might take a little while for your comment to show up. Thanks for being patient.