Here are a few things to keep in mind, look ahead to, or take care of this week -- from the weather (the "s" word), to voting, to musical vegetables to falling back.
Weather
For early November, this week's weather is looking pretty good. It'll be cooler, but not bad. Here's the paraphrased forecast:
Monday: Sunny, a bit breezy. Highs in the mid-40s.
Tuesday: Sunny, a touch warmer. Highs in the upper 40s.
Wednesday: About the same, but a bit warmer. Maybe the best day of the week. Highs around 50.
Thursday: Again, highs near 50 -- but cloudy and maybe some rain.
Friday: OK, deep breath... chance of snow Thursday night into Friday. Friday highs in the upper 40s, cloudy.
Weekend: The sun is back. Highs in the upper 40s.
Election Day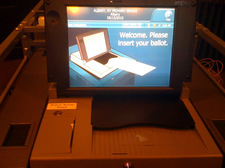 It's Tuesday. Polls open at 6 am and close at 9 pm. There's a big slate of offices up for grabs this year: governor, both US Senate seats, US House seats, state Senate and state Assembly (as well as some local judgeships and school boards).
Also, if you didn't vote in the primary, this could be your first time using the new optical scan voting machines.
Don't know where to vote? Here's how to find out.
Musical veggies
There's not a whole lot lined up this week for music, but Wednesday at Proctors is the Vienna Vegetable Orchestra -- which performs music on instruments made of vegetables.
We're not making this up. From the blurb:
Using carrot flutes, pumpkin basses, leek violins, cucumberophones and celery bongos, the orchestra creates its own extraordinary vegetable sound universe. The ensemble overcomes preserved and marinated sound conceptions or tirelessly re-stewed listening habits, putting its focus on expanding the variety of vegetable instruments, developing novel musical ideas and exploring fresh vegetable sound gardens.
Tickets start at $10 for adults, $5 for kids.
Arts and Sciences
+ Waiting for Superman, the documentary about the US education system that's been stirring up discussion, is currently running at the Spectrum. Following the 6:45 showing on Wednesday, there will be a panel discussion about some of the issues raised in the film. The panel will include Albany schools superintendent Raymond Colucciello.
+ TEDxAlbany -- the local spin-off of the popular TED series -- is Thursday. It's been moved from The Egg to The Linda. Tickets are $39.99.
+ The local marathon reading of To Kill a Mockingbird is this Saturday from 9 am - 9 pm at the Book House in Stuyvesant Plaza. AOA Mary and a bunch of other people from the AOA crowd will be among the readers.
Fall back
Daylight Savings Time ends next Sunday (clocks go back one hour). Here's why it feels unusually late:
1. DST was expanded two weeks on either end in 2007.
2. Under the newer rules, DST ends on the first Sunday in November -- and this year is the latest first Sunday in November possible (November 7).
To-do list
Like it or not, it's going to snow soon. The average first snowfall for this region is October 31. So this week's to-do list includes snow prep:
1. How are your shovels? Do you need a new one? Do have a compact shovel for your car trunk (you should)? Shop now before the rush. You might also want to snag a bag of rock salt or sand.
2. If you have stuff outdoors that you don't want snowed over -- deck furniture, for example -- take it inside.
3. Rake the leaves. Once it snows, you know you're not going to do it.
4. Hey, it's not all bad. Snow means it's time to get your ski gear ready. When that first snow hits, the mountains will be waiting.
This "week ahead" post is a new feature and it's still a work in progress. Got ideas on how to make it better? Or just have something to add for this week? Let's hear it!
Say Something!
We'd really like you to take part in the conversation here at All Over Albany. But we do have a few rules here. Don't worry, they're easy. The first: be kind. The second: treat everyone else with the same respect you'd like to see in return. Cool? Great, post away. Comments are moderated so it might take a little while for your comment to show up. Thanks for being patient.