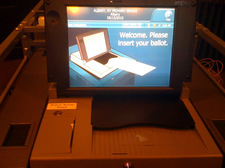 Update: The drawing's now closed, as is the exit poll. Thanks!
___
We thought it'd be interesting/fun to do a quick (and totally unscientific) exit poll for Election Day.
So, the first-ever AOA Exit Poll is after the jump. It should take all of 30 seconds to fill out. We'll post the aggregate results tomorrow.
Also, as part of the poll, we're giving away a copy of the Daily Show book Earth: A Visitor's Guide to the Human Race. We'll draw one winner at random from all the people who take the poll.
Important: You have to take the poll by 11:59 November 2 to qualify for the book drawing. You'll also have to enter an email address (that you check regularly) so we can contact you. We'll notify the winner by noon on November 3. And the winner must respond by 8 pm that day.
On to the poll!
Hi there. Comments have been closed for this item. Still have something to say? Contact us.