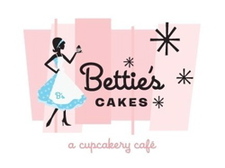 The cupcake bus and truck for Bettie's Cakes have made appearances all over the Capital Region, but the only place you could be sure to find the bakery's cupcakes anytime was in Saratoga's Downstreet Marketplace.
Until now. Bettie's is opening up a location in the food court at Colonie Center.

Bettie's owner Lorraine Murphy says the new location should be open by next week. Right now it's a temporary situation for the holiday season, but they've put some work into the decor and Lorraine says if things go well enough, they'd consider keeping the location open.
Colonie has become the epicenter of the cupcake boom in the Capital Region. The bakery Coccadots has a location on Central Avenue and a truck. Sweet Temptations opened in Loudoville earlier this year, and they have a truck. And the Fluffalicious truck also patrols the area.
But Lorraine says Bettie's isn't aiming to start a cupcake war. She says they're opening the Colonie location for visibility. "Our location in Saratoga isn't the easiest for everyone to get to."
And what about the Albany County trans-fat ban, that bakeries have said is such a pain? "We've never used trans fats," Lorraine says, "and we never will."
(Thanks, Renee!)
Yep, Bettie's took part in AOA's birthday week giveaway earlier this year.

Hi there. Comments have been closed for this item. Still have something to say? Contact us.