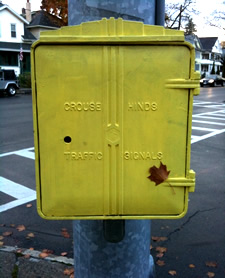 Interesting: Sanjay Goel, a UAlbany professor, has gotten a $378,375 grant to study how traffic light systems might be designed to produce emergent behavior. In other words, could traffic lights self-organize -- like ant colonies -- to enable better traffic flows.
From the press release:
Goel believes that each traffic light, like each ant, should make its own decision to communicate with the next light. That way, a driver crossing the intersection at midnight wouldn't have to wait for long minutes at a red light while there is no other traffic. ...
"The goal is to develop self-organizing algorithms and conduct simulation and modeling that would involve selection of intersections in Albany to test some algorithms," said Goel. "The focus of the study is to understand the limitations of this approach and find out where such techniques can fail or under what conditions we may get bottlenecks or chaos in traffic," he said.
Goel is looking for just the right intersections. "We will pick a variety of places where there is fast-moving traffic in the city," he said.
If someone can figure out how to make the traffic lights on Western Ave work together so as not to induce road-rage-levels of frustration in drivers along that stretch -- well, that person would deserve some sort of prize.
By the way: Have you stood next to one of the old traffic signal boxes around Albany (pic on the right)? If you listen carefully, you can hear the parts moving in there as the lights change.
[via @omarjpeters]
Hi there. Comments have been closed for this item. Still have something to say? Contact us.