We've walked past the posters pitching Dunkin' Donuts "pancake bites" a bunch of times during the last week or so -- and each time, we thought, "Really? Who ever would ever get those?"
Well, today we got an answer: us. Really.
We're not proud of this. Sausage and pancakes are a classic combination. But these things -- manufactured and, uh, ovoid -- just seem so wrong that they needed to be tried.
So we handed over our two bucks for three pancake bites (they're 3 for $1.59, 6 for $3). We think the woman who passed them to us out of the oven couldn't even believe that we were ordering them.
The company says the bites are "a poppable breakfast snack that makes it easy for anyone to savor the delicious pairing of pancakes and sausages any time of day." And it says the bites "continue Dunkin' Donuts' 60-year heritage of offering new and innovative menu options." In this case, innovation is figuring out how to encase chunks of breakfast sausage in "pancake."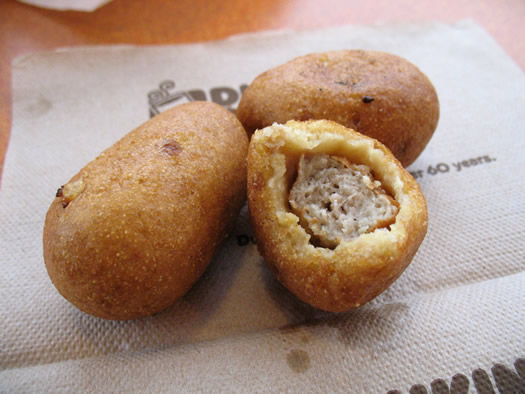 In the best light, they look like croquettes. In the worst, they look like the testicles of some animal have been battered and fried so that the crazy host of a Travel Channel show can eat them.
The bites are surprisingly heavy for their size. The exterior feels like a corn dog. In fact, the whole thing is a lot like a corn dog -- except that corn dogs come on a stick, and any food on a stick is fun. Sadly, the pancake bites don't come on a stick.
They smell like maple syrup, though there isn't much of that flavor. The exterior is slightly crunchy, with a thin layer of fluffiness. As you take a bite the exterior squishes until you meet the sausage center. The interface between the two layers is oddly wet and tastes vaguely of pancake batter that's not cooked all the way. The sausage is unctuous and very mildly spiced. The finish leaves a lingering aftertaste of batter and sausage, with a little grease on the lips. The overall mouth feel says corn dog, but the flavor suggests breakfast.
For their small size, the bites are impressively caloric. Each one clocks in at about 100 calories. About 60 percent of those calories are from fat. Three of them contain 23 percent of the recommended daily sodium intake.
Nutrition aside, we gotta say they're not terrible (we wouldn't say they're good, either). And we didn't have to force ourselves to eat all three. But the flavor is just... flat and greasy. It's probably safe to say these are the last three pancake bites we'll ever eat.
Hi there. Comments have been closed for this item. Still have something to say? Contact us.