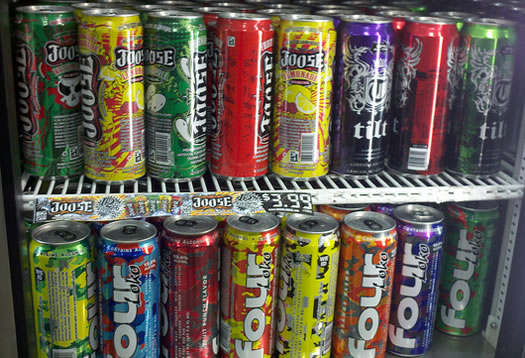 Chuck Schumer is calling on the New York State Liquor Authority to ban caffeinated alcoholic beverages. Schumer says the drinks are dangerous -- and cites the case of an 18-year-old Long Island woman who died this past August after allegedly drinking a Four Loko.
The now-infamous Four Loko is a malt liquor drink that comes in 23.5-ounce cans and is 12 percent alcohol by volume, with what the company says is about the same amount of caffeine as a 12 ounce cup of coffee.
Four Loko has apparently become quite popular among the college set. There have been a bunch of reports students being hospitalized or otherwise getting into trouble after binging on the drinks (and many tales). And the coverage has resulted in some tabloid-y lines describing the drink, including "liquid cocaine" and "badness in a can."
The state of Michigan banned caffeinated alcoholic beverages earlier this month, and Washington did the same this week (apparently setting off a rush on remaining supplies of Four Loko). And Oklahoma has a ban set to start next month.
The company that makes Four Loko has urged regulators to wait on results from an FDA review, and is calling for uniform regulations.
Four Loko was implicated in the recent bout of binging that resulted in nine Skidmore students going to the hospital. But the Skidmore News reports that beverage's role was probably overstated.
Of course, if the state bans beverages such as Four Loko, it's not going to stop people from consuming such drinks. It's not like college students have never heard of mixing Red Bull with vodka.
photo: Flickr user jameskm03
Hi there. Comments have been closed for this item. Still have something to say? Contact us.