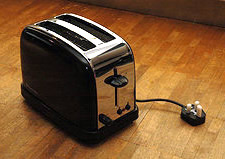 Eric asks via the Facebook:
I'm looking for a good small appliance repair place in the district. I've got a couple of 40's-50's Mixmasters that are in fine working order except for bad cords. In this throwaway society is there a place to go get something fixed?
We we first saw his question, we pass along an earlier Ask AOA question about appliance repair shops for items such washers
Semi-helpful, but it's easy to find repairmen for "Major Appliances"- what ever happened to the little shop around the corner with an old guy who'd repair your pop up toaster? No such place- these days most appliances cost less that $100 and if they break they're disposable.
We fear that the modern world -- for better or for worse -- has made this service hard to find. If it costs $25 to fix a $30 toaster, most people are just going to buy a new toaster.
But we hope there are still places like this. Any suggestions? Please share!
Hi there. Comments have been closed for this item. Still have something to say? Contact us.