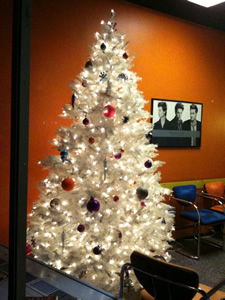 Martin emails about issue that's been simmering with us, too:
I think we all agree that mmerchandisers and television ads begin celebrating Christmas too soon. I was in CVS a week before Halloween and store employees were stocking Christmas chachkas. Last night my wife suggested we dig out Christmas decorations and start decorating for the upcoming holiday, but I still I think it's too soon, and that we should wait until after Thanksgiving. We've sparked a great debate among friends. How soon is too soon to start decorating/celebrating Christmas?
Premature holidaying has been going for a long time, but we seemed to notice it a bit more this year. Maybe it was the radio stations that started playing Christmas music weeks ago. Or the (admittedly great) Christmas tree we spotted in a shop window at the beginning of November. And now there are retail stores planning to open on Thanksgiving day.
Our take: Getting out the holiday decorations and all that before Thanksgiving is too much. It's like... opening a present before Christmas. And starting it all around Halloween is downright ridiculous.
Hi there. Comments have been closed for this item. Still have something to say? Contact us.