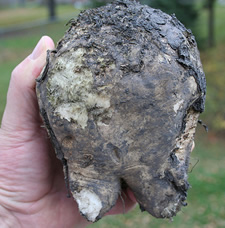 Tucked into a recent Thruway press release was this juicy bit (emphasis added):
In a continuing effort to improve the efficiency and effectiveness of the Authority's winter maintenance program, the Albany and Syracuse Divisions will be using renewable sugar beet sourced liquid and salt brine mixture. The mixture will be used as an anti-icing agent in both a direct liquid application in advance of a storm, and in the pretreatment of rock salt. The new material compliments the Authority's widespread use of straight salt brine, which has proven effective and very economical as a pretreatment for rock salt.
The Thruway Authority apparently experimented with products made from sugar beets last winter in the Albany area. It reportedly worked well -- and didn't stain the roads. Midwestern states have been experimenting with beet-derived solutions for a few years now (and Maryland's using it this year, too). [AP/NCPR] [Oneida Dispatch] [USA Today]
There are even two competing beet products for road treatment: Geomelt and Ice Bite.
OK, so... why sugar beets? (That's one just out of the ground on the right.) The theory is that that that substance derive from the beets lowers the temperature at which the salt solution freezes. (A patent filed in 2000 for using a sugar beet byproduct -- "desugared sugar beet molasses" -- claims the substance remains "flowable" at below-zero temps.) That helps the solution stick to roads and continue working longer, which means less salt is required (good for saving money -- and good for the environment). [USPTO] [UPI] [Duluth News Tribune] [PNAS]
[via]
photo: Flickr user mindy.kotaska
Hi there. Comments have been closed for this item. Still have something to say? Contact us.