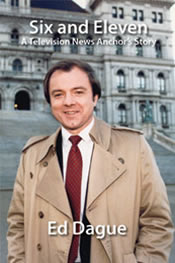 Longtime Capital Region TV anchor Ed Dague has written a book about... being a TV journalist in the Capital Region for a long time. It's called Six and Eleven. From the blurb:
Dague's book offers a sage and penetrating look at the news business in the Albany metro area, at the people and personalities who both made and reported that news and at how the news business has changed and continues to change. This book also offers insight into the personality and character of a man who was part of the daily routine of hundreds of thousands of Capital District residents who depended on him for a fair and balanced recitation of the events that affected their lives in myriad ways.
We haven't read the book, but we're looking forward to it. Dague was always our favorite local TV anchor.
Back in October he wrote of the book: "[it's] about my experiences, my successes and my failures, while trying to sustain a career in a really strange business that I once thought could produce a lot of good." This week he mentioned that he finally read the book start to finish and "It is a lot better than I expected."
Dague will be appearing at the Book House at Stuyvesant Plaza this Saturday for a signing. He'll also be making a bunch of appearances around the Capital Region over the next month.
Follow up December 3: Paul Grondahl's story in the TU today covers the degenerative arthritic condition that Dague has been fighting.